For those who are not quite ready to take on the Los Angeles Marathon in March, but still want to test their limits in a friendly competitive environment, LA is home to several 5K races. The 3.1 mile courses are perfect for the first-time racers looking for a fun, but low pressure race. Here are some of our favorites happening this year.
The Color Run
The Los Angeles edition of this colorful, untimed race that organizers call "the happiest 5K on earth" takes runners on a course that wraps around Dogder Stadium on February 2. Runners dress in white and prepare to get pelted in a different color powder for every kilometer they finish. Organizers promise that the powder is 100 percent natural and safe.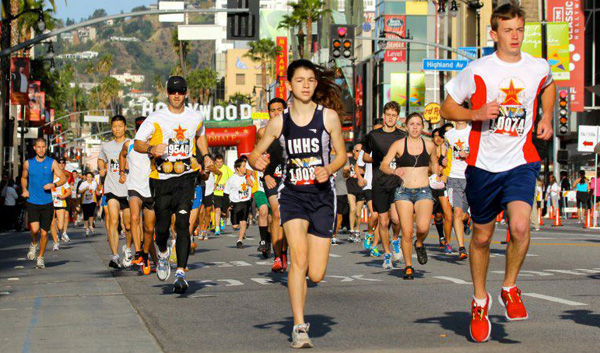 Hollywood 5K
Runners are encouraged to dress as their favorite Hollywood star before racing the 3.1-mile course on the Hollywood Walk of Fame on April 6. The star-studded course starts and finishes on Hollywood Boulevard. Other races during the weekend include a 10K and the Hollywood Half-Marathon. The Hilton Universal, the official race hotel, hosts the Hollywood Health and Fitness Expo a few days before the race events kick off.
Firefly Run
Runners glow while they race at the Firefly Run, a night time 5K in Carson on May 31. Once the sun goes down at 8:30pm, runners start at the Home Depot Center. After the race, participants to dress up in their best glow-wear to compete in a costume contest and are welcome to celebrate at a laser-filled after party.
Disneyland Family Fun Run
Kids of all ages race through Disneyland as part of the theme park's half-marathon weekend on August 31 to September 1. For the 5K race, runners take on a course through the Disneyland Resort. Disneyland 10K takes participants through Carsland, Disney California Adventure, the Disneyland Theme Park and the streets of Anaheim, and a half-marathon finishes at the Disneyland Hotel.
Run for Your Lives
This part-race, part-game fills San Bernardino's Glen Helen Raceway with runners and zombies on September 28. Participants must outrun the hordes of the undead and make it to the "safe zone"—past the finish line, with at least one "life flag," which runners collect on the race course.