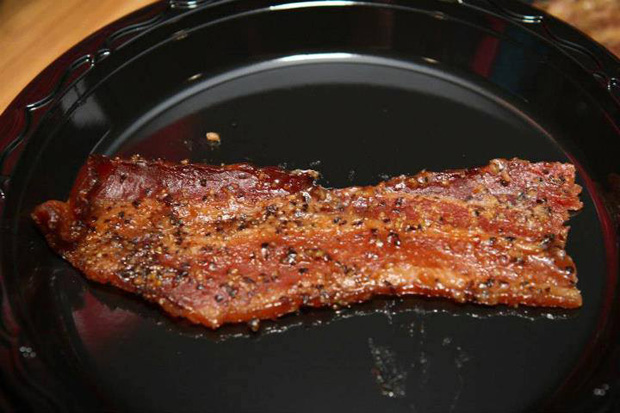 The Big Bite Bacon Fest is branching out from San Diego to Long Beach with food tastings, beer and bacon-themed games aboard the Queen Mary on on August 2.
A variety of bacon dishes will be offered, from appetizers to desserts, from LA chefs from popular local restaurants. A taste-test contest will also allow professionals and amateur to show off their best bacon recipes.
"Ultimately, this event is the mothership for bacon lovers," says Mark Entner, who calls himself the Chief Bacon Officer at Big Bite Events. "The restaurants whose menus feature bacon offerings, the chefs who love to cook with it and the fans who love to indulge in its deliciousness all collide in this one-day bacon nirvana."
In the past, the top winners included dishes like the bacon grilled cheese, braised bacon and spicy pickle tacos, maple bacon donuts and a bacon burger. The entry fee to the contest is $39 with $3,000 in prizes and the top winner advances to compete at the World Food Championship in Las Vegas for the title of "Bacon World Champion."
"Contestants enter one of three categories, professional, amateur, and brand new this year is the kids division," Entner says. "In a two heat series, we will take the top three highest scoring professional chefs to move on in the competition but also to become team mentors. They will judge the kids and amateur competitors and decide from that pool. The best candidate from each division to join their team."
Several craft breweries will be on hand to balance the salty bacon goodness and the promised bacon-themed entertainment will include singing the bacon anthem, pig pong, bacon hole (think corn hole with bacon), a Big Daddy Bacon pageant and a dunk tank.
The event's growth from San Diego to Long Beach will bring the similarities that made the Bacon Fest popular to begin with, but with its own flavor.
"Though attendees will see many similarities shared between the two events, especially with the Big Bite Bacon Dish Contest, both will feature their own entertainment programming," Entner says. "For instance, San Diego County Fair will feature the Big Bite Bacon Wedding and though, we're not quite ready to unveil our big entertainment element for The Queen Mary in Long Beach, it will surely please all the local bacon lovers. Season your skillet and stay tuned."
Plan ahead and book a room on the Queen Mary with the Losangeles.com Hotels Page.