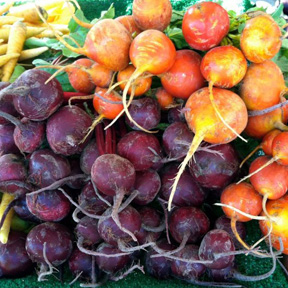 The Beverly Hills Farmers Market offers a variety of Fresh Veggies.
Eating healthy and staying fit is a top priority for many Angelenos, which means knowing where the farmers market los angeles natives truly prefer is not so easy. This is made easier with a plethora of natural and organic farmers markets located throughout the city every day of the week. Health-conscious consumers can find foods and beverages that are as delicious as they are nutritious in all corners of the city. Though there are hundreds of farmers markets in Los Angeles, these are some of the most popular.
Sunday – Beverly Hills Farmers' Market

The Beverly Hills Farmers' Market is located in the 9300 block of Civic Center Drive. Held every Sunday from 9am to 1pm, regardless of the weather, the Beverly Hills Farmers Market is home to more than 60 vendors that sell locally grown fruits, vegetables and specialty gourmet foods. The market also features a variety of dietary and restricted foods, including vegan, vegetarian, kosher, halal and sugar-free items.
Monday – West Hollywood Farmers Market
The West Hollywood Farmers Market, located in Plummer Park from 9am to 2pm, offers everything from fresh rotisserie chicken and organic honey to French baguettes and vegan Korean specialties. Though it's smaller than most other farmers markets in the area visitors can find some great bargains.
Tuesday – Culver City Farmers Market
Though it's one of the smaller Los Angeles farmers markets, the Culver City Farmers Market is one of the best places to get to know the vendors that go out of their way to establish personal relationships with their clients. Open on Tuesdays from 2pm to 7pm, the market is located along Culver City's famous but tiny Main Street. The most frequented vendors include the Hawaiian Chicken Guys, Burkart Farms, Arnett Farms and Ali Baba. Parking is a breeze.
Wednesday – Pershing Square Farmers' Market (Downtown)
Open every Wednesday 9am to 2pm, the Pershing Square Farmers Market is the only outdoor produce and gourmet market in Downtown Los Angeles that offers produce straight from the farm. The endless variety of produce sold weekly includes peaches, nectarines, avocados, strawberries and much from local California farms. The Downtown Farmers Market also has the much loved Argentinean Empanada stand where patrons line up for the famous Spicy Chicken Empanada made to order.
Thursday – Westwood Farmers Market
Of all the farmers markets in Los Angeles, this is the one where vendors are more than happy to give out as many free samples as possible, including the ever-popular mini bundt cakes that go like, well, hot cakes. Also on the "must try" list is the Greek stand where fresh hummus, feta, and baklava are snapped up as soon as the market opens. Because it's open on a weekday, from 12pm. to 6pm, the Westwood Farmers Market is a perfect stop for late lunch on the way back from the beaches of Santa Monica, Venice and Malibu.
Friday – Venice Farmers' Market
This is probably the only Los Angeles farmers markets with a fifth generation goat farmer who serves up homemade goat cheese to customers—and he has the goats on site for customers to see just how happy and well-treated his animals are. It also has a wide plethora of specialty food items, including gluten-free cookies, freshly pressed paninis and coconut water. A family friendly market, open from 7am to 11am, it also has "aminal" (not "animal") rides for kids so bring the little ones along for fun and games.
Saturday – Santa Monica Farmers Market
Saturday morning at the Santa Monica Farmers Market offers a short break from the hustle and bustle of the Third Street Promenade.Opens from 8am to 1pm, most of the fruit and vegetable vendors offer free samples. One of the site's most popular stops is Mis Padres Taco, a perennial favorite for those who like fresh and organic tacos with a spicy kick and lots of flavor. Fresh flower vendors sell all of the season's most picturesque bouquets and floral arrangements.