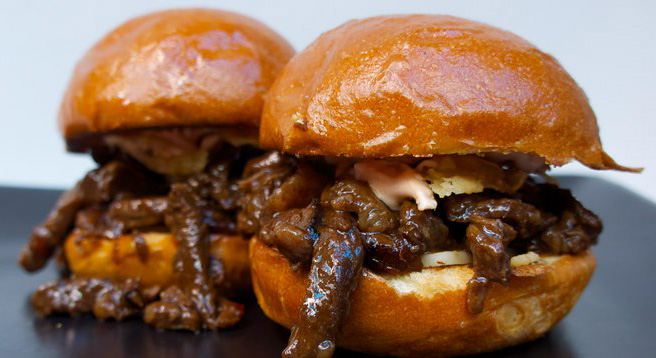 The Me So Hungry food truck serves up a delicious menu of burgers, sliders, and fries to hungry Los Angeles diners. We checked in with chef/owner Cory Ewing to see what the LA food truck has been up to lately.
Truck Name: Me So Hungry Truck
Cuisine style: Sliders, Burgers, Fries and Rings
Usual Locations: LA, SF & OC
Years in Business: Three
Owner/Chef: Cory Ewing
Background: The Great Food Truck Race inspired us to start a truck and I had graduated from Le Cordon Bleu. My brother Mike has extensive marketing and design experience so we figured this could be a really great opportunity to bring something new and delicious to a (at the time) rapidly growing industry.
Specialty menu items: The Monster Burger
Top seller: Cali Sliders
What's your most difficult item to prepare and serve?
We've tailored our menu to feature items that we could easily prepare while not sacrificing any quality. You could say we've trimmed the fat from our menu.
Your website says that menu changes seasonally. How often is that and what are some truck items we may have missed?
We haven't changed our menu as a while as we've gotten locked into our wheelhouse but we used to feature shrimp po'boys and salmon sliders when we first opened up.
What are some of your favorite food trucks?
India Jones, Ragin Cajun, Jogasaki, Grilled Cheese Truck, some of the OGFTs
If you could meet one chef, who would it be and why?
Anthony Bourdain because of his no-BS take on food and the industry as a whole.
Favorite music to listen to in the truck?
We just throw it on KROQ and let it do it's thing.
Favorite location:
Derby Dolls in LA! We've been serving with them for a while now and have loved every shift.
What is your favorite brick-and-mortar place to get french fries in LA?