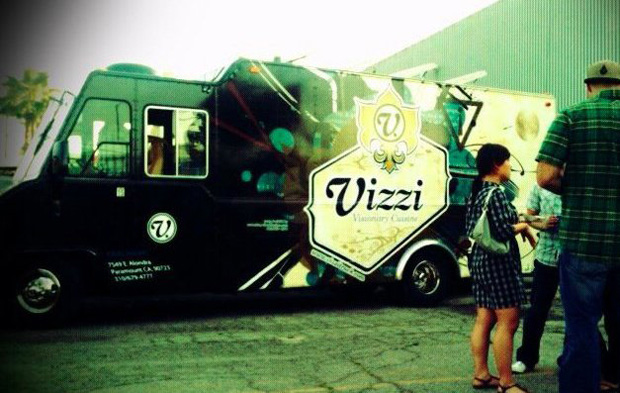 The Vizzi Truck delivers fresh ingredients and coastal flavors while showcasing the sights and sounds of independent musicians and DJs on the streets of LA. We caught up with Chad and Dave Fuñe, owners of the LA Food Truck to find out what's on their plates, screens and speakers.
Truck Name: Vizzi Truck
Cuisine style: California Coast Cuisine
Usual Locations: Westside of Los Angeles, downtown LA, catered events
Years in Business: 2.5 years
Owner/Chef: Chad Fuñe and Dave Fuñe
Background: We wanted to start a small catering business and bumped into some gourmet food trucks in downtown LA. Chad wanted to create a mobile food experience that captured all your sense by also featuring local artists on our three HDTV monitors and 600-watt speaker system. Dave brought his awe-inspiring menu to the table which rated us one of the top Zagat rated food trucks in 2012. Presentation and flavor profiles are what Chef Dave is meticulous about.
What inspired the truck's unique name?
It's a short name for visual gourmet. We came up with it randomly one night. Pronounced vi-zee not vit-zi, which is the proper Italian way to say it.
Specialty menu items: Wagyu beef sliders, bacon + bacon burger, organic chickpea sliders
Top seller: Wagyu beef sliders, bacon + bacon burger
What's your most difficult item to prepare and serve?
Brie and bacon grilled cheese sandwich. It has the most components to it and during a busy lunch or dinner service it can slightly slow down the line. Its flavors, once you bit into it, are well worth the wait in case you do find yourself waiting longer than usual.
Your truck often features the sights and sounds of independent musicians, DJs and short films. Where do you find these up-and-coming artists?

Most of the talent that comes to us is through referrals, friends, family or people reaching out to us wanting to get some exposure. We are more than happy to show our love to local artists and get feedback on their success.
Favorite music to listen to in the truck?
It's pretty eclectic in here, but it depends on the mood. You can't go wrong with some 90s hip-hop and rock, though.
What are some of your favorite food trucks? 
Lomo Arigato, Fist of Fusion, Crepe N' Around, Discussion Truck, Grill'em All, The Boba Truck
Favorite location: Figueroa Produce in Highland Park. We are there every Tuesday night and it's great to see the community come out and support the trucks. We've got our regulars that visit us weekly. We even have one fan begging his mom to take him every week to eat our bacon bacon burger.
What are some of your favorite brick-and-mortar burger places in LA? Umami Burger, 25 Degrees, JNJ Burger Shack