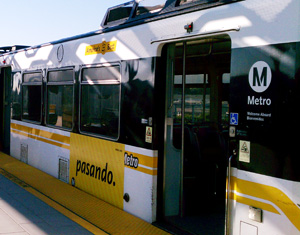 Since the Los Angeles Metro Expo Line began service this past Spring, Angelinos and visitors can finally access Downtown Los Angeles from Culver City and all of the great restaurants and attractions in between.
The train line, which Metro plans to eventually extend to Santa Monica by 2016, travels mostly along Exposition and National Boulevards before curling upward to downtown. For the price of one of Metro's TAP cards, the Expo Line provides access to many of the diverse neighborhoods and experiences Los Angeles has to offer.
Culver City
Located in the intersection of Washington and National Boulevards, the Culver City Metro Los Angeles station is a quick 10-minute walk away from downtown Culver City. An added bonus is ample free parking right below the station.
Across the street from the Metro Los Angeles parking lot, Surfas sells everything and anything for kitchens. From large commercial appliances to whisks and rollers, visitors can spend hours browsing the kitchen supplies at this culinary institution. Cafe Surfas has a separate entrance than the main store and serves up delectable sandwiches and salads for lunch. For those looking for a heftier dinner, Father's Office on Helms Ave. offers pub grub and craft beer and In-N-Out Burger on Venice Boulevard dishes out some of Los Angeles' most famous burgers.
Downtown Culver City area is known as an emerging culinary hub that is jumping with places to eat and things to do. Some of our favorite spots include Rush Street for its epic happy-hour menu and Ugo for its wine bar and gelato selection. City Tavern has a comprehensive beer and cocktail selection and Almaza Fine Mediterranean Cuisine on Venice Boulevard doles out delicious shawarma and hookah until 2am on weekend.
After dinner entertainment options include the film selection Pacific Theatres Culver Stadium 12 on Culver Boulevard or a performance at the Actors' Gang Theatre, housed in the historic Ivy Substation on the corner of Culver and Venice Boulevards. On weekdays, the Sony Pictures Studio lot offers tours, while the the Farmers Market on Main Street is fun to browse on Tuesdays from 2-7 p.m.
Expo/La Brea and Farmdale
Both the Expo/La Brea and the Farmdale stations, located one long block away from each other, land in a mostly residential neighborhood, but there are excellent dining options nearby. Normandie Cafe, located five blocks west of the station, makes delicious French cuisine and CJ's Cafe, located in the Baldwin Hills Shopping Center south of the station, serves Mexican and soul food entrees. Mel's Fish Shack on West Jefferson dishes out Cajun and Creole cuisine.
Expo/Crenshaw

There are lots of delicious dining options at this stop. Order a famous hot dog or burger from Earlez Grill or get freshly fried fish from the Crenshaw Fish Market on Crenshaw Boulevard. The Kobbler King dishes out flavored Southern cobblers for dessert.
The West Angeles Cathedral, one of the nation's largest churches with a congregation of more than 25,000 that includes Denzel Washington, Stevie Wonder, Angela Bassett, Magic Johnson and Samuel L. Jackson, is also in the area. Nearby, The Lula Washington Dance Theatre on Crenshaw Boulevard offers classes and performances from its dance company.
Expo/Western
This stop ventures into a burgeoning Little Belize district, which is known for tasty dining options. A collection of Belizean restaurants sit on South Western Ave., including Joan and Sisters, Ella's Belizean Restaurant, and Tracy's Belizean Restaurant.
Right across the street from the Metro station, commuters can grab a bite on South Western Ave. at Juicyland Cafe and Deli, Abby's Seafood, NSHo Sai Kai Chinese restaurant or buy meats and seafood to cook at home at Exposition Fish and Poultry.
Expo/Vermont and Expo Park/USC
Both stations serve the Southern portion of the University of Southern California's campus on Exposition. The two stations are also close to Exposition Rose Garden and the California Science Center, the new home to Space Shuttle Endeavour.
The California African American Museum is also nearby, along with the and the Los Angeles Coliseum, where the USC Trojans football team plays home games on Saturdays in the Fall.
Pico
The Pico Station drops travelers off in right in the heart of LA Live, the Los Angeles Convention Center, the Staples Center and the Nokia Theatre without the usual pain of having to spend a lot of money on parking in the area. The LA Live complex offers myriad options for a night out—lagers served in half-yard glasses at Yard House, high-end Mexican dishes at Rosa Mexicano, movies at Regal Cinemas and bowling at Lucky Strike Lanes.
Whether its a Los Angeles Lakers or Clippers basketball teams, the L.A. Kings hockey or a concert, there's usually something going on at the Staples Center. The Nokia Theatre also regularly hosts concerts by touring performers.
7th St./Metro Center

The Expo Line ends in the middle of Downtown Los Angeles. Outside the station, the Jewelry District's hosts stores and vendors along Hill Street, Olive Street, and Broadway between 5th and 8th Streets.
This area is diverse in its dining offerings. St. Vincent's Court looks like an alley on South Hill Street, but it's actually a charming collection of French, Italian and Persian eateries tucked away from the bustle of the busy downtown streets. Umamicatessen on Broadway dishes out the famous Umami burger, along with pork from PIGG and Kosher goodies from The Cure. Bottega Louie, known for its Italian cuisine, is a quick jaunt away from the station on the corner of 6th Street and Grand Ave.
The Angels Flight Railway, the shortest railway in the world, is within walking distance on South Hill Street. It's a bargain at 25 cents a ride for visitors who show their TAP cards. A great finish for the journey is a cocktail with the view at the Rooftop at The Standard hotel.
Article by Mallory Carra, a Los Angeles-based freelance writer.