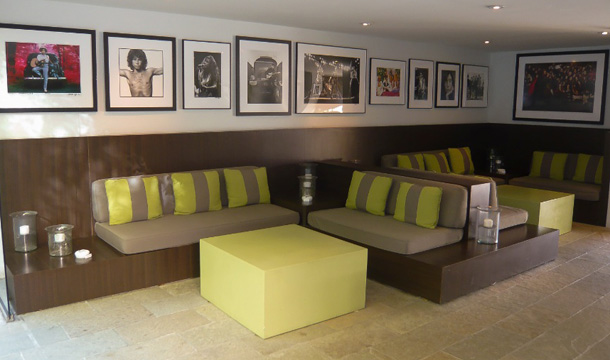 Acclaimed celebrity photographer Timothy White is known for taking world-famous celebrity photos, but for his latest project he stepped out from behind the camera to curate an exhibition of famous musicians and sports figures at the Morrison Hotel Gallery in the Sunset Marquis hotel.
The installation, which features celebrity musicians Bob Marley, the Beatles, Green Day, and Eric Clapton, along with iconic sports images, opens February 7th at the hotel near the Sunset Strip.
"There's a wide gamut of styles, types of people and age groups, but they represent all of music history," White said.
White, co-owner of the Morrison Hotel Gallery, has curated a number of exhibitions during the past two years and approached the Sunset Marquis manager about making the collection of photos part of the hotel's new look and decor.
"The hotel has a lot of celebrity and musician guests here and I sat down with the manager owner of the hotel and told them we should do something with this collection," White said. "I said I could build you this collection of the greatest photographs of the biggest stars. It should be something people come to see."
And musicians are already taking notice. White recalled members of the Who, recent guests at the hotel, marveling at a photo of them in the installation that they had no idea existed until then.
White, who is based in New York City, has been spending an extended amount of time in Los Angeles and is in residence at the Sunset Marquis. Usually, he has only stay for the extent of his photo assignments, which have included photographing Audrey Hepburn, Robert Mitchum, Brad Pitt, George Clooney and all of Harrison Ford's movie posters. But curating the Morrison Hotel Gallery has kept him in the City of Angels for the past few months and he said he's come to appreciate it in a whole new way.
Throughout the years of traveling to Los Angeles for work, White developed a love for riding his motorcycles through the Mojave Dessert, El Mirage Dry Lake Bed, the landscapes between Palms Springs and Las Vegas, and even LA traffic.
"I love big open space and being on a motorcycle out there," White said. "The dessert is one of the biggest parts of California that excites me. The sense of light in LA is fun to work and play in. Getting on bike and being in traffic, requires a different focus and it's definitely something that frees my mind."
Whenever clients ask him to shoot photographs in LA that look like New York, White takes them to Downtown by 6th Street Bridge and the LA river. He also continues to travel back and forth to his home base in New York for a very personal project on his plate—a book about his documenting the twilight years of his parents, who are 93 and based in New Jersey.
The Morrison Hotel Gallery is located inside the Sunset Marquis Hotel