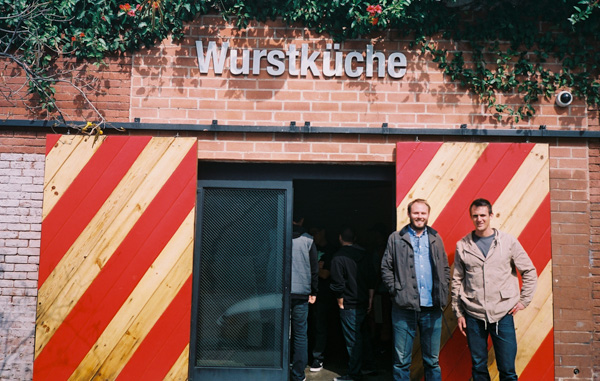 In an industrial expanse of Downtown Los Angeles, a couple of blocks from the massive American Apparel factory, lies the Los Angeles Arts District, home of popular restaurant and beer house, Wurstküche.
It's a lively area filled with street art and edgy restaurants, new-age healing centers and budding art galleries. Yet, only six years ago, the LAAD neighborhood was just another blotch of indistinguishable urbanity.
Surprisingly, one of the early pioneers of LAAD was not a gallery or a cool bar, but a sausage restaurant. A beer hall, to be precise. Wurstküche opened on 3rd Street in the LAAD in November of 2008. In the words of a local bartender, "it has had a line around the corner every since."
I visited Wurstküche several weeks ago for dinner, and, sure enough, there was a line around the corner. The restaurant occupies a picturesque brick warehouse. Tall red double doors open onto a counter area, where you order your gourmet sausage, craft German beer and Belgian-style fries. You are served in the Beer Hall, a high-ceilinged, wood-and-brick dining room with long communal oak tables, an extended bar and a DJ-booth in the corner. The atmosphere is open and jovial.
The food is also good. I ordered the most interesting thing I could find on the menu, a Rabbit and Rattlesnake sausage, with all the fixins. I sipped a rare German lager and devoured my fat Belgian fries accompanied by a fantastic chipotle aioli.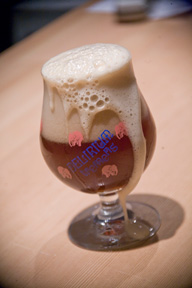 Several weeks later, I met the owners of Wurstküche, Joseph Pitruzelli and Tyler Wilson, at a sunny outdoor table, and talked about the restaurant over duck-and-bacon sausages. They spoke about sausage ideas, why they refuse to serve martinis, and how they managed to pull off the perfect 21st Century Beer Hall in DTLA.
So let's start with the name of the restaurant…
Wurstküche (pronounced "woorst kook ah"). It means "Sausage Kitchen"
Simple enough. Where did the idea for Wurstküche come from?
Sausage was a favorite of mine going through college, because it had all these different flavors packed into one little food. Tyler and I, who are cousins, were originally developing a bar. We wanted to keep the food component really simple, so we thought about making little gourmet sausages. We started developing that a little more, and tying in Belgian and German beers. We fell in love with the pairing, so it became less of a bar and instead a modern take on a beer hall.
So is that the concept, a 21st Century Southern Californian Beer Hall?
TW: Exactly.
JP: Yes, definitely. We have full liquor licenses at both locations (Wurstküche opened a second location in Venice in 2010), but we barely use them. We only serve a few liqueurs and schnapps that fit with our model. I think that shows our resolution to do only what fits.
TW: Yeah, one guy was like, "you need a bigger menu. You need schnitzel and some soups and some salads." And I was just like "you don't get it."

Right, because it's not a German food restaurant. It's a beer hall.
JP: Yeah, this is not a German food restaurant. One of our best qualities is that we have been resolute in doing one thing, which is the modern beer hall. And some things are hard to say no to.
Like selling spirits. How do you say no to that? Isn't that the highest profit margin?
JP: Yes, but it would fundamentally change our thematics. Once you hear a martini being shaken, you're not in a beer hall, and we don't want to dilute that.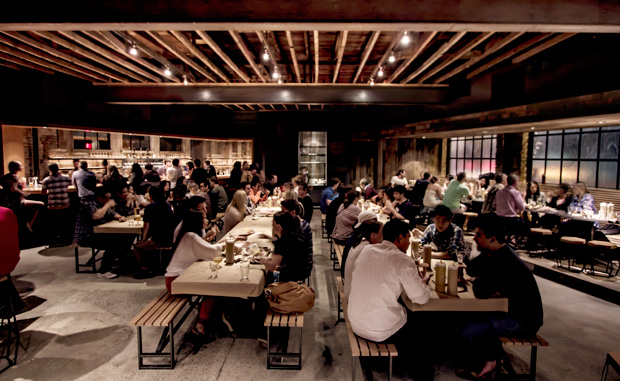 When you first came here four years ago, was the neighborhood different than what we see today?
JP: When we started doing research in 2007, the neighborhood did look different. The buildings have been around for a long time, but the people in the neighborhood, the vibe in the neighborhood was different. I mean, you could feel something brewing, but it was behind closed doors.
Whereas now it's pouring out onto the streets…
JP: Yeah, especially recently. I'm noticing it more over the last four or five months than I've ever noticed it.
A couple of weeks ago I came here and had the Rabbit & Rattlesnake Sausage. How did you come up with that menu item?
JP: We just choose recipes solely based on taste. We want to try and build a spectrum of flavors. Obviously, something like rattlesnake and rabbit has a wow factor to it.
But how does someone come up with that idea? Who's sitting around and says, I'm gonna put Rattlesnake and Rabbit together and make a sausage?
JP: It's like what (LA Gastropub) The Gorbals did with bacon-wrapped matzo balls. Despite it having some really wow shock factor names, it's really important to us that it be palatable.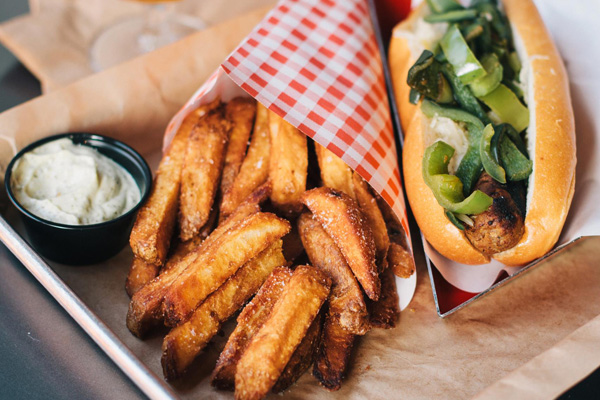 Let's talk about the beer for a minute. What's the theory there?
JP: When we started seeing an artisanal beer trend happening, we wanted to immediately define ourselves as the place to get the best craft brewer's beers. The Belgians and Germans have been making cool, interesting beers, way before anybody was making cool, interesting beers. They don't change them as often as we do, but there's also a lot more history in the beer making.
TW: And then we take that all to another level, because we serve it in the appropriate glassware that is distinguished by monks and history. Some of these steins have been the same for centuries and have really interesting evolutionary tales.
When you're not being the entrepreneurs behind a successful restaurant, what do you do in LA?
TW: I have two kids, so I hang out in Griffith Park a lot, on the trails. We also spend a lot of time at the restaurant. They love coming down here. My three year old just crushes sausages. He'll drink a cucumber soda or a strawberry soda and eat two bratwursts and an order of fries, and he's three years old. The atmosphere is just great for kids because, it just doesn't really matter. It's not like you're gonna offend somebody.
Where do you like to eat in LA when you're not at Wurstküche?
JP: I love Chego, over on Overland and Rose; it's like Korean Rice bowls. So good. I love Blossom, for Vietnamese food. I try to keep a variety of a places. I love Gjelina Takeaway in Venice. It's Gjelina's side bar restaurant. Those are my top three.
TW: My favorite spot to hang out when I'm not here is Varnish, it's probably the pre-eminent cocktail bar of Los Angeles.
JP: Yeah, I'd say Varnish is what brought mixology back onto the scene. Eric Alperin is a genius.
What's up next for the Wurstküche Empire?
TW: Well, the whole energy of Wurstküche isn't something you can have anywhere and we want to keep opening them ourselves at this point. We want to build a really good company, and that takes time. But we are hopefully going to be opening our third store in December in Denver. Beyond that, it's all up in the air.
Find Beer Gardens and German Dining options in the LosAngeles.com business directory.
Follow Isaac Simpson on Twitter at @Isaco525