Finding the right kind of child care is one of the most important decisions any working parent will ever make. The good… read more
news is that Los Angeles child care options are available for all parents and guardians, including traditional nannies, babysitting services, and professional facilities that can help educate a child in those early formative years. The important thing is to find the right kind of care that makes the parent feel secure that their child's needs are being met and that their best interests are at heart.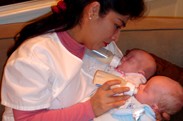 Redondo Beach Avenue
Gardena
CA
90247
(310) 365-8042
Having an Infant Specialist and a Postpartum Doula (all in one) helps tremendously in easing the transitioning into parenthood by guiding, teaching and educating parents about new techniques on how to properly care about babies.
Baby Care by Los Angeles Neighborhoods