Few things are more important to the average consumer than looking good. Though they may not always achieve the look they want, there is no dearth of suppliers of beauty supplies and products for every conceivable beauty need. Los Angeles beauty stores can help consumer beautify every part of their appearance, from hairstyling and makeup to skin tone and hair removal.
Los Angeles Beauty by category
Hair Salons/Barber Shops
Los Angeles hair salons and barber shops play a central role in the city, not only because they help residents look and feel their very best, but because they act as a de facto social center where patrons go to share ideas, experiences, and, yes, gossip. Barbers, hairdressers, stylist and colorists alike work to provide clients with not only the best look possible, but really listen to make sure they know exactly what clients are hoping for in the end result. This attention to detail leads to lasting relationships between the establishment and the client.
View Hair Salons/Barber Shops business list
Manicures/Pedicures
Los Angeles manicures and pedicures are a rage among residents who want to pamper themselves or are lucky enough to have been treated by someone who cares about their well-being. The primary services all manicure and pedicure places offer are clipping, buffing, finishing, and a shirt massage. These can go quite in-depth depending upon how much one wishes to pay for specialized attention, but they are worth the investment for every toe and finger.
View Manicures/Pedicures business list
Diet & Weight Centers
Los Angeles diet and weight centers go far beyond what they used to be: programs that helped people lose weight. Now, they give consumers the tools to reprogram their entire lifestyle so that instead of simply adopting a diet they show those who want to drop pounds how to change their entire lifestyle to attain and maintain results. Depending upon one's current weight, weight history, and genetic and lifestyle factors, different programs will have differing results. As such, it's important to work with a program that will offer a customized approach to weight loss.
View Diet & Weight Centers business list
Day Spas
Los Angeles spas and massage centers continue to be a haven for all seeking refuge from the mounting stress of daily life. The toll of working and living a modern life can be taxing on the body, which is why it is so important to know when to step back and treat one's body to a generous massage or a full package spa pampering. Rates vary greatly between spas which is why it's best to check online for deals and coupons.
View Day Spas business list
Beauty Supplies
If you own or operate a salon, or even if you're just interested in maintaining your best appearance, it's important to know where to go to get the best beauty products at the most affordable prices. Los Angeles beauty supply stores differ vastly in the quality of their products and customer service, so be careful to do your research before settling on one to handle your beauty needs. It's also worth noting that different suppliers have different specialties and can help you access the kinds of products you need for specific beautifications.
View Beauty Supplies business list
Cosmetics
Los Angeles cosmetics go far beyond the standard makeup and eyeliner. Cosmetics these days can help sculpt and contour parts of the face, enhancing definition and helping consumers look as good as the models in cosmetic ads. Many products are now available on the market that help enhance the appearance of hair and skin in addition to covering up facial flaws.
View Cosmetics business list
Los Angeles Beauty by Neighborhood
3649 Mission Inn Ave
Riverside
CA
92501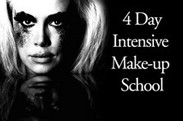 7510 W. Sunset Blvd., #1003
Los Angeles
CA
90046
(310) 415-4885
ARE YOU AN ASPIRING MAKEUP ARTIST? STUDENTS RAVE "THIS IS THE BEST MAKEUP TRAINING IN LOS ANGELES!" 4 DAY MAKEUP SCHOOL TAUGHT BY CELEBRITY MAKEUP ARTIST BECOME A PRO MAKEUP ARTIST IN LESS THAN A WEEK! NO MORE THAN 4 STUDENTS PER COURSE TO EN