Los Angeles Families by category
Day Care & Baby Sitting
Los Angeles daycare and babysitting services are accredited institutions where infants and toddlers spend their days while their parents work or take care of business. These centers specialize not only in keeping children out of harm, but in nurturing them so that they may be ready for elementary school when the time arrives. It is important to discuss all concerns with the center's administrator prior to leaving any children in their care: their priorities and the parent's priorities must be in sync for the child to succeed.
View Day Care & Baby Sitting business list
Baby Care
Finding the right kind of child care is one of the most important decisions any working parent will ever make. The good news is that Los Angeles child care options are available for all parents and guardians, including traditional nannies, babysitting services, and professional facilities that can help educate a child in those early formative years. The important thing is to find the right kind of care that makes the parent feel secure that their child's needs are being met and that their best interests are at heart.
View Baby Care business list
Nannies
Los Angeles nannies are known for their ability to take care of infants and toddlers with the sensitivity and understanding required to help children grow into balanced and caring adults. The many agencies in the Los Angeles area that staff nannies also staff senior companions, housekeepers, and domestic workers as needed by clients. Given that nannies and other domestic help must become a part of the family to function effectively, the agencies work to make sure that client and employee understand each other's values and needs.
View Nannies business list
Playgrounds
The most important thing about all the Los Angeles playgrounds is the fact that it allows children of all ages, backgrounds, and abilities to play together and enjoy their childhoods as they are meant to be. Many local parks and playgrounds are equipped with swing sets and jungle gyms that allow children to get active and become physical in an increasingly sedentary and technologically plugged in era.
View Playgrounds business list
Diaper Services
Though few parents use it, diaper services have been around for many years, almost as long as diapers have, in fact. Los Angeles diaper services help parents by delivering diapers to their front door each week by staying on top of details like the baby's growth and any health issues the infant may be experiencing. Diaper services also give parents the option to choose between traditional cloth diapers or the more pervasive synthetic disposable kind. According to diaper services, babies can tell the difference!
View Diaper Services business list
Children's Storytelling
Los Angeles children's storytelling events are a great way for adults and children to interact and to exchange information through a fun event that engages the creative mind. Local bookstores, elementary schools, and even acting classes host storytelling events where children sit and listen to adults and other children who regale the audience with tales of humor, bravery, and wonder. Children are exposed to narratives from all around the world, understanding the meaning of the written and spoken word as a tool of communication.
View Children's Storytelling business list
Los Angeles Families by Neighborhood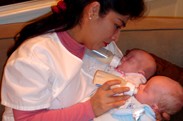 Redondo Beach Avenue
Gardena
CA
90247
(310) 365-8042
Having an Infant Specialist and a Postpartum Doula (all in one) helps tremendously in easing the transitioning into parenthood by guiding, teaching and educating parents about new techniques on how to properly care about babies.