Whether you're the type to wear a lab coat on a daily basis or the type who knows way too many details about way too many movies, there's a museum for you in Los Angeles. As one of the most culturally diverse cities in the country, LA takes as much pride in its own history as it does the history of the world. From exhibits that depict the origins of life in phenomenal detail to unparalleled collections of artwork, each museum is as much a tour through history as it is a shrine to every culture. Ardent fans of the entertainment industry will love visiting the museums that specialize in collections of movie, television and music memorabilia, as well as the ability to see archived footage of some of the most popular moments on screen.
Free Museums in LA
The word "free: will undoubtedly always result in perked ears, but free museum days that draw huge crowds can often be the worst time to bask in the lovely ambiance of Los Angeles's best exhibits. However, LA has no shortage of museums that are free year-round, making it easy to escape the stampede of art lovers desperate to save a few bucks.
The Best Spots to View Space Shuttle Endeavor

After landing at Los Angeles International Airport earlier this month, Space Shuttle Endeavour's final journey will be closer to the daily commute for thousands of Angelenos—a slow crawl through the streets of Los Angeles.

Child Friendly Museums in Los Angeles

There are several museums in Los Angeles that are kid friendly, providing parents and children ample opportunities to learn and be entertained at the same time.

What to See at the Natural History Museum of Los Angeles

Anyone who thinks that all museums are stuffy and boring has never been to the Natural History Museum of Los Angeles. One of the most stunning museums in the world, it is the largest facility of its kind in the western United States and houses over 35 million historical pieces and specimens. Many of its...

Read more »
Los Angeles Museums by category
Modern Art Museums
Los Angeles modern art museums house thousands of pieces of the most stunning art made in recent times, featuring groundbreaking and trendsetting works from all over the world by artists such as Frieda Kahlo, Picasso, and Diego Rivera. The artwork is as varied as the artists themselves and includes paintings, sculptures, print, drawings, murals, and even live performances. The typical run of an exhibit is at least one month and is often accompanied with a lecture series by an art historian or sometimes even the artist responsible for the work itself.
View Modern Art Museums business list
Childrens Museums
Los Angeles children's museums do much more than provide a diversion for frustrated parents: they educate children in the ways of the nature and society, exposing them to ideas in a broad sense that will become more logically nuanced as they age. Local children's museums allow children to participate in the artistic and scientific process, showing them the practical use of their own abilities and the very real way in which they can affect their own environment.
View Childrens Museums business list
Crafts Museums
Not all museums feature large works of art made during the Renaissance or before. Los Angeles crafts museums showcase handmade art and exhibits that speak not only to the type of craft, but to the era in which the crafting was popular. Be it handmade posters, quilts, pottery, or even furniture, Los Angeles crafts museums will inspire their patrons to make similar creative strokes in their own lives.
View Crafts Museums business list
Los Angeles Museums by Neighborhood
6780 Hollywood Blvd
Hollywood
CA
90028
(323) 466-6335
Home to weird class family fun, where you can explore 2 floors of galleries, shows and unusual and fascinating exhibits collected by world-famous traveler Robert Ripley.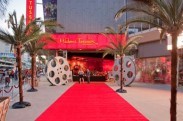 6933 Hollywood Blvd
Los Angeles
CA
90028
(866) 431-1634
Visit Madame Tussauds Hollywood. The only place to see your favorite stars from the big screen!