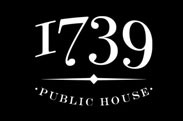 1739 Public House
1739 N Vermont Ave
, Los Angeles
, CA
90027
(323) 663-1739
This business listing needs your help!
Have you been to 1739 Public House or know the owner?
Help contribute content about this business.
What are their hours of operation?
What makes this business unique and worth writing about?
What products or services do they sell?
Videos from 1739 Public House
Add Video
Articles Mentioning 1739 Public House
Question: Where can trivia enthusiasts test their knowledge and win free drinks while they're at it? Answer: At several Los Angeles bars and taverns. Here are some of our favorites.