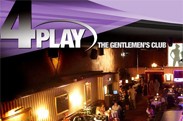 Edit
4 Play Gentlemans Club
2238 Cotner Ave
, Los Angeles
, CA
90064
|
Directions
Hours:
Mon-Thu:
12:00 am - 3:00 pm
/
Fri:
9:00 am - 4:00 pm
/
Sat:
6:00 pm - 4:00 am
/
Sun:
6:00 pm - 2:00 pm
/
About 4 Play Gentlemans Club
All Gentlemen know, when in L.A., 4PLAY comes first!
On any given night, everyone from celebrities to politicians can be spotted ogling the playmate-quality dancers on the stage. The ambiance of this club is unique, offering an intimate setting with a sense of old-world charm, complete with fine art depicting tasteful images of nude, Venus-esque women. The girls, on the other hand, get down and dirty well enough to leave no one minding the fact that nude bars in LA means no alcohol. With the two separate private dance rooms, the VIP area and delicious private dance options like private stage performances or bed dances on fake beds, absolutely anyone can find their way to happiness here. The best part is that this club isn't raunchy; it's tastefully dirty with just enough sass to keep even the frat boys happy.