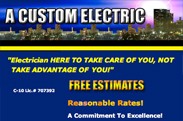 Edit
A Custom Electric | Electrician Los Angeles
464 N. Stanley Ave
, Los Angeles
, CA
90036
|
Directions
Hours:
Mon-Fri:
7:00 am - 5:00 pm
/
About A Custom Electric | Electrician Los Angeles
Licensed Electrical Contractor, Bonded and Insured. FREE ESTIMATES!!! REASONABLE RATES!!!
Electrician Los Angeles, Electrical Contractor. Licensed, Bonded, Insured. Free Electrical Estimates, Company Lifetime Guarantee on Electrical work. We perform all types of electrical services: house rewiring, electrical panel upgrade, generator installation, lighting retrofits for residential electrical and commercial electric projects. We Install Recessed Lights!