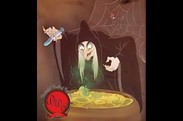 Edit
A Wonderful World Of Animation
9517 Culver Blvd
, Culver City
, CA
90232
|
Directions
Hours:
Tue-Sat:
11:00 am - 5:00 pm
/
About A Wonderful World Of Animation
Located in the Culver City Art District, WWA Gallery focuses on showing figurative and illustrative fine art by emerging and established artists. Guest curators often collaborate with WWA to create innovative and exciting events.
Located in the Culver City Art District, WWA gallery's goal is to present emerging and established artists who have an individual perspective and clear vision and aesthetic. With a focus on figurative and illustrative work, WWA gallery will be presenting an array of shows with a wide range of artists such as David Ball, William Paul Buzzell, Ben Kehoe, KRK Ryden, Miss Mindy, CJ Metzger, Jim Darling, Tina Darling, Dan Barry, Jesse Hotchkiss, Jacob Livengood, Richard Frost, Paul Torres, Casey Weldon, Julian Callos among others.

WWA gallery has a unique history. We are the sister gallery of the Wonderful World of Animation, which has been the 'go to' destination for animation art collectors since 1993.