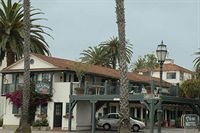 Ala Mar by the Sea
102 West Cabrillo Blvd, Santa Barbara, CA 93101
1.800.252.0306
Need Help?
Call 1.800.252.0306
About Ala Mar by the Sea
Ala Mar by the Sea is a Hotel business in Santa Barbara
Property Location
With a stay at Ala Mar by the Sea in Santa Barbara (West Beach), you'll be minutes from Ty Warner Sea Center and Stearns Wharf. This beach motel is close to Presidio Santa Barbara and Santa Barbara County Courthouse.
Rooms
Make yourself at home in one of the 18 guestrooms. Cable television is provided for your entertainment. Bathrooms have complimentary toiletries and hair dryers. Housekeeping is provided daily, and irons/ironing boards can be requested.
Dining
A complimentary continental breakfast is included.
Business, Other Amenities
The front desk is staffed during limited hours. Free self parking is available onsite.
Ala Mar by the Sea Amenities
Free Wi-Fi
Free breakfast
Free self parking
Front desk (limited hours)
Number of floors - 2
Pets allowed
Total number of rooms - 18
Our Low Price Hotel Guarantee
We are confident that our hotel prices are guaranteed to be the lowest rate you can find. If you find a lower rate for your hotel on another site, we'll refund the difference to you. Book with us and enjoy total peace of mind!
If you find a lower rate at any time up until hotel's cancellation window, we'll match the price. The lower price you find needs to be for the same dates, length of stay and room type.
---
Found a better price?
The lower price you found must be available on another website directed to consumers in the same locale, and must be for the same hotel, dates and room type.
If you used a coupon/discount voucher when you made your original booking, you can still claim under the guarantee. We will use the total discounted price you paid and compare this to the lower price you found in order to calculate your refund.
If you have made a booking which cannot be cancelled — whether it is non-refundable or if you are already within the cancellation window for the hotel — then you can't claim under the guarantee. Bookings that were part of a specific promotion (e.g. 3 nights for the price of 2) are also excluded from claiming under the guarantee.
Once we have confirmed that you are due a refund under the guarantee we will issue the refund to the card you paid with at the time of booking. We will process your refund immediately but it may take your bank up to 30 days to process it and for it to show on your statement.
Why book with us?
LosAngeles.com doesn't charge cancellation fees
We're just a phone call away: 1.800.252.0306 or 00.800.1610.1690 (Europe)