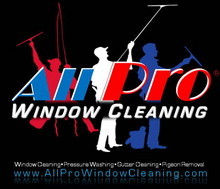 Edit
All Pro Window Cleaning Services
335 Town Centre Terrace
, Brentwood
, CA
94513
|
Directions
About All Pro Window Cleaning Services
ALL PRO Window Cleaning Service… www.allprowindowcleaning.com


is a Property Maintenance Company that has been serving the East Bay Area since 2002.



We are Alameda and Contra Costa's Most
Recognized & Trusted Window Cleaning Comp
 

All Pro Northern California - BRENTWOOD, CA - BAY AREA: ALAMEDA COUNTY | CONTRA COSTA COUNTY | SAN JOAQUIN COUNTY



 



"The Leader in Professional Cleaning and Property Maintenance"



 



All Pro Window Cleaning



Toll Free: 1-866-460-5111



Website: www.AllProWindowCleaning.com



 



Our mission statement is very clear and to the point, to provide the best quality service without compromise to professionalism, responsiveness, customer satisfaction or quality control.



 



Welcome



 



ALL PRO Window Cleaning Service… is a Professional Cleaning and Maintenance Company for Residential Homes and Commercial Properties that has been serving the Northern California, East Bay, Tri-Valley, Contra Costa, Alameda Counties and Communities since 2002.



                                                                                                                                       



We provide Professional:  Window Washing, Power Washing, Gutter Cleaning, Pigeon/Bird Control, Removal and Clean-Up, Construction Cleans, and our Exclusive Holiday/Christmas Lighting Services



with an attention to quality and detail.



 



We offer free & Prompt On-Site Estimates, competitive prices, and superior Quality.



 



"Fully Bonded, Licensed & Insured… Professionals"



 



For immediate assistance please call:



 



Stockton/Tracy Office:        209.836.1500



Livermore Office:                   925.447.0500



Pleasanton Office:                 925.460.0100



Walnut Creek Office:            925.945.0800



Brentwood Office:                  925.634.1806



 



Toll Free: 1.866.460.5111



 



Website: www.AllProCleaningServices.com



Website: www.AllProWindowCleaning.com



Website: www.AllProGutterCleaning.com



Website: www.AllProBirdControl.com



Website: www.AllProPressureWashingService.com



 



All Pro Window Cleaning services both Residential Homes, Retail and Commercial Store Fronts, Office Buildings, Construction Sites, Apartment Complexes, Shopping Centers, Restaurants, & Hotels in the Alameda, Contra Costa, Counties.



 



Commercial Customers Includes:



Property Management Companies, HOA's, Condo Associations, General Contractors, Construction Management firms,  City/State/Federal/Government Agencies



 



Proudly Serving the following Cities and Communities:



 
San Francisco, Sacramento, Stockton, Ca., Alameda and Contra Costa Counties …
Bay Area, East Bay, Tri-Valley Cities, Alamo, Antioch, Bay Point, Bethel Island, Blackhawk, Brentwood, Byron, Castro Valley, Clayton, Concord, Danville, Diablo, Discovery Bay, Dublin, Fremont, Hayward, Lafayette, Livermore, Manteca, Mountain House, Newark, Oakley, Pittsburg, Pleasant Hill, Pleasanton, Ruby Hill, San Ramon, Tracy, Union City, and in Walnut Creek, California.