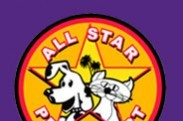 Hours:
Mon-Fri:
8:30 am - 5:30 pm
/
Sat:
8:30 am - 12:30 pm
/
About All Star Pet Resort
Dog and Cat Kennel and Groooming
All Star pet resort has been serving the Torrance, CA and South Bay dog and cat community for over 35 years. We offer a full range of Dog and Cat boarding accommodations and activities to make your pets stay both exciting and enjoyable. We will ensure your pet has a happy and safe boarding experience enabling you to enjoy your time away from home. You will feel content knowing that your pet is receiving the best possible, experienced loving care. All Star pet resort is licensed, insured Dog Kennel and Cat Kennel, regularly inspected by the Department of Animal Care and Control. We invite you to stop by for a tour of our Dog and Cat boarding facility Monday thru Friday, 8:30 a.m. - 5:30 p.m. and Saturday 8:30 a.m. - 12:30 p.m. We are closed on Sunday.
All Star Pet Resort Videos