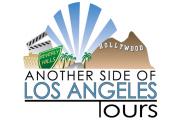 Edit
Another Side Of Los Angeles Tours
1102 South La Cienega Blvd
, Los Angeles
, CA
90035
|
Directions
Hours:
Mon-Sun:
8:00 am - 6:00 pm
/
About Another Side Of Los Angeles Tours
Welcome to Another Side of Los Angeles Tours! Our TripAdvisor rating says it all. We are #1 in Los Angeles for a lot of terrific reasons. We exist to take our guests above and beyond the typical tourist experiences! We deliver the best tours and experienc
Our locally owned and operated tour company is famous for offering the finest tours in Los Angeles. Our tours are created with love, compassion, and forethought from beginning to end. We exist for any guest that wants the best tours and experiences here in "The City of Angels." We love Los Angeles and we are passionate about what we do here. Our tours are perfect for world travelers, families, and corporate groups. We look forward to exceeding your expectations every step of the way!