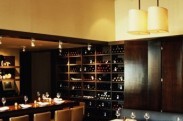 Edit
AOC Wine Bar and Restaurant
Hours:
Mon-Thu:
6:00 pm - 10:00 pm
/
Fri:
6:00 pm - 11:00 pm
/
Sat:
5:30 pm - 11:00 pm
/
Sun:
5:30 pm - 10:00 pm
/
About AOC Wine Bar and Restaurant
A.O.C. Restaurant and Wine Bar, is the groundbreaking wine bar and restaurant by Chef Suzanne Goin and business partner and Sommelier Caroline Styne that revolutionized the small plates menu trend in Los Angeles.
Chef Suzanne Goin and her business partner Caroline Styne set the bar for showcasing both the seasonal market in a small plate format and their stunning wine-by- the glass program - all set in a convivial ambiance that nurtures the Los Angeles social and cultural scene.
Articles mentioning AOC Wine Bar and Restaurant
Since she launched her own fashion line in 1995, Trina Turk has grown her company into an iconic brand of California-inspired women's clothing.