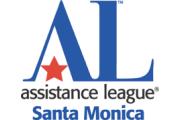 Edit
Assistance League Thrift Shop
Hours:
Mon-Tue, Thu-Sat:
11:00 am - 3:00 pm
/
About Assistance League Thrift Shop
Nonprofit organization assisting people in need in Santa Monica that funds the programs by sales in their upscale thrift shop.
Upscale thrift shop features clothing and accessories, household items, furniture, books and movies, jewelry and collectibles and all sales benefit people in need in the community. Shop is run by member volunteers.
Assistance League Thrift Shop Videos