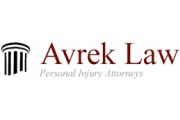 Edit
Avrek Law Firm
9180 Irvine Center Drive
, Irvine
, CA
92618
|
Directions
Hours:
Mon-Fri:
9:00 am - 5:00 pm
/
About Avrek Law Firm
Avrek's attorneys and dedicated staff represent injured accident victims. Our areas of practice include; catastrophic injuries resulting from automobile, motorcycle, pedestrian, bicycle, ATV, construction site, defective product & other accidents.
Avrek Law Firm's personal injury attorneys work aggressively for their clients and have obtained over $100,000,000 in settlements and judgements since 1989. Avrek has been featured in many of California's most popular publications and has been recognized in 2014 for the Avrek Drivesafe Scholarship Program, a viral video contest for college students to help save lives by raising awareness about the dangers of distractions while driving. Avrek Law Firm is also the creator of the BikeSafe Accident Reporting App, a mobile and desktop app for cyclists to let other cyclists know where to be careful while cycling in California. Avrek specializes in motor vehicle accident cases and personal injury lawsuits. With over 20 locations in California to serve you, Avrek Law Firm remains committed to providing the highest quality service to anyone needing legal representation. English and Spanish-speaking attorneys and staff are available to discuss your case by telephone, and the Avrek website (avrek.com) has a secured Free Case Review form that you can fill out to see if you have a case.