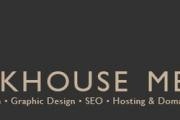 Edit
Backhouse Media
1812 W Burbank Blvd
, Burbank
, CA
91506
|
Directions
Hours:
Mon-Fri:
8:00 am - 5:00 pm
/
About Backhouse Media
Backhouse Media provides web services, marketing solutions, and digital media strategies for any size business, organization, or individual.
BHM is a cuttng edge media firm that can work with you whether you're starting from scratch or improving on an existing design. We specialize in website design, branding and graphic design for both web and print, search engine marketing, reputation management and hosting solutions.
Backhouse Media Videos