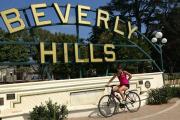 Edit
Bel-Air and Beverly Hills Bike Rental
Book Tours Online!
, Los Angeles
, CA
99999
|
Directions
About Bel-Air and Beverly Hills Bike Rental
Explore two of Los Angeles' wealthiest neighborhoods, Beverly Hills and Bel-Air, on a self-guided bike tour. With a 24-hour bike rental and a detailed map of the recommended route, you can ride from West Hollywood past the glamorous homes of today's favorite celebrities in affluent Beverly Hills. Bike to famous filming locations and pedal past Rodeo Drive, the Beverly Hills Hotel and more. The best part? There's no extra charge for star sightings!
Pick up your 24-hour rental bike, including safety vest and helmet, on Santa Monica Blvd in West Hollywood. Consult the provided map and ride approx. 3 miles (4.8 km) to two Los Angeles neighborhoods that most define glamour, wealth and celebrity: Beverly Hills and Bel-Air.
Your self-guided tour follows a moderately strenuous route, but it's up to you how much you wish to pedal at any time. Riding a bike brings you up close and personal to exclusive areas that bus tours may miss. Bicycle through these glitzy neighborhoods to see magnificent mansions where present stars live and past stars leave their legacy.
Perhaps explore the grounds and gardens of a legendary Beverly Hills mansion used as a location in countless films, television shows and commercials. You may even be lucky enough to see a production in progress. Continue to the iconic Beverly Hills Hotel, also known as the 'Pink Palace,' before heading to Rodeo Drive.
Pedal past the Beverly Wilshire Hotel, which was featured in the film Pretty Woman, and ride by Villa Blanca, the famed restaurant featured on the Real Housewives of Beverly Hills. Ride down Rodeo Drive and see its famous world-class shops and boutiques selling luxury brands like Gucci, Armani, Hermes and Prada.
Get your picture taken in front of the iconic Beverly Hills sign and see Los Angeles' City Hall, which has been featured in many films and tv shows such as Tower of Terror and The Adventures of Superman. Other landmarks en route include: Pacific Design Center, Historic Route 66, Greystone Mansion, Will Rogers Park, 'Witch's House,' Beverly Hilton and 9/11 Memorial Garden.
When your time is up, just return your bike and equipment to the rental office.