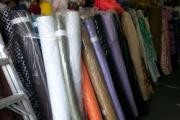 Edit
Ben Textile Incorporated
Hours:
Mon-Fri:
8:30 am - 6:00 pm
/
Sun:
10:00 am - 4:00 pm
/
About Ben Textile Incorporated
Ben Textiles Inc has offered the best customer service and fabrics in the industry for over 20 years.
With our extensive selection of the following fabrics:

Lamour Satin
Bridal Satin
Crepe Back Satins
Charmeuse Satins
Chiffons
Two-tone Chiffons
Sheer Voiles
Pintucks
Plain Taffetas
Embroidered Taffetas
Organzas
Basic Polyester for tablecloths
Organza Embroideries and much more.

We can provide you with the finest products at very competitive prices.
At Ben Textiles, we are commited to building strong customer relationships and delivering on all your textile needs.

With our team of knowledgeable specialists at your service, we can assist you with any order, wether it's a special custom print or a new color palette. With over two decades of experience in servicing a wide range of industries including designers, manufactures, events specialists, and party rental companies, we have the expertise and products to handle all of your textile needs.

Established in 1990
Ben Textiles Inc. has been in business for 20 plus years, incorporated in 2002.