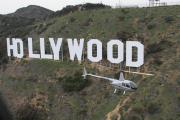 Edit
Best of Hollywood Helicopter Tour
Book Tours Online!
, Los Angeles
, CA
99999
|
Directions
About Best of Hollywood Helicopter Tour
Take to the skies to experience Los Angeles and Hollywood in a whole new way on this exhilarating helicopter tour. Choose from three different flight itineraries to suit your interests: Fly over the glamorous Hollywood Strip, admire LA's beautiful coastal cities, or spot the luxury celebrity mansions of Beverly Hills and Bel-Air. Each flight includes informative commentary from an expert pilot, and hotel pickup and drop-off is available.
Your helicopter flight departs from Compton Woodley Airport. You can choose to drive to the heliport yourself or enjoy round-trip transport from your Los Angeles or Hollywood hotel.
Hollywood Strip
Get amazing views of Hollywood and the massive sprawl of Los Angeles on this 20-minute flight. Graze over the skyscrapers of downtown LA and the Los Angeles Coliseum, USC and Paramount Pictures, and continue over glitzy Hollywood Boulevard and the Dolby Theatre, the Capitol Records Building, the Staples Center and the Nokia Center. Fly over the Griffith Park Observatory and pass right in front of the Hollywood Sign for an up-close view of this world-famous icon.
Los Angeles Coastal Cities
Admire the LA area's beautiful coastal cities, beaches, harbors, cliffs and hills on this 25-minute flight. Pass over Long Beach, Manhattan Beach, Hermosa Beach, Palos Verdes, Cabrillo Beach and other elegant beachside communities, and get great aerial views of the RMS Queen Mary and the Port of Los Angeles' cruise ships and container ships returning from abroad.
Los Angeles Celebrity Homes
Get bird's-eye views of LA's multimillion-dollar celebrity mansions on this 35-minute flight over Beverly Hills, Bel-Air, Brentwood, the Pacific Palisades, the Hollywood Hills, Santa Monica and more. Spot the famous Playboy Mansion, enjoy views of the Hollywood Sign, hover over downtown Los Angeles, and view Universal Studios, the Staples Center, Venice Beach, the Hollywood Bowl and Dodger Stadium.