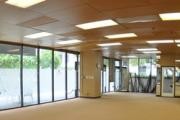 Edit
Bikram Yoga Downtown La
Hours:
Mon-Tue, Thu:
6:00 am - 10:00 pm
/
Wed:
6:00 am - 11:15 pm
/
Fri:
6:00 am - 8:30 pm
/
Sat:
6:30 am - 6:30 pm
/
Sun:
8:30 am - 8:30 pm
/
About Bikram Yoga Downtown La
"Never too late, never too old, never too bad, never too sick, to start from scratch and begin again." - Bikram Choudhury -
Welcome to Bikram Yoga Downtown L.A.!

We are a certified Bikram Yoga studio that services beginner, intermediate, and advanced students.

Practice is based on a series of 26 yoga poses, including two pranayama exercises, each of which is performed twice in a single 90 minute class.

Please see our website for more information, schedules and pricing.