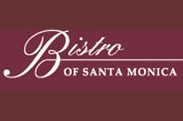 Edit
Bistro Of Santa Monica
2301 Santa Monica Blvd
, Santa Monica
, CA
90404
|
Directions
Hours:
Mon-Fri:
11:00 am - 10:00 pm
/
Sat:
4:00 pm - 11:00 pm
/
Sun:
4:00 pm - 10:00 pm
/
About Bistro Of Santa Monica
Celebrating 25 years of excellent customer service!
Just minutes from beautiful Santa Monica beach, Where the wind is crisp and the city has an ambiance that is pleasantly contemporary. There is a lively Bistro where you can come to unwind and enjoy a wide arrange of tantalizing authentic Italian dishes. With desserts that are deliciously tempting and a grand choice of wines that will satisfy even the most exquisite of palates.