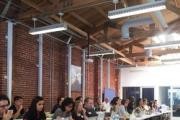 Edit
Blankspaces Santa Monica
Hours:
Mon-Thu:
8:00 am - 9:00 pm
/
Fri:
8:00 am - 8:00 pm
/
Sat:
1:00 pm - 6:00 pm
/
About Blankspaces Santa Monica
Modern coworking space. Flexible office plans for entrepreneurs and freelancers.
CoWorks Space is a shared workspace where startups, innovative businesses, and entrepreneurs can grow. We provide workspace by the hour, week or month and offer our members all the basics so they can focus on getting their job done.