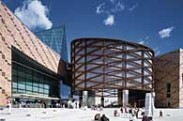 Edit
California Science Center
700 Exposition Park Dr
, Los Angeles
, CA
90037
|
Directions
Hours:
Mon-Sun:
10:00 am - 5:00 pm
/
About California Science Center
Part of a larger Los Angeles museum complex near the USC campus in Exposition Park, the CSC is 245,000-square-feet of interactive fun for the whole family. And it is FREE
Articles mentioning California Science Center
The word "free: will undoubtedly always result in perked ears, but free museum days that draw huge crowds can often be the worst time to bask in the lovely ambiance of Los Angeles's best exhibits. However, LA has no shortage of museums that are free year-round, making it easy to escape the stampede of art lovers desperate to save a few bucks.

Since the Los Angeles Metro Expo Line began service this past Spring, Angelinos and visitors can finally access Downtown Los Angeles from Culver City and all of the great restaurants and attractions in between. For the price of one of Metro's TAP cards, the Expo Line provides access to many of the diverse neighborhoods and experiences Los Angeles has to offer. Plus, it's a great way to avoid traffic en route to Lakers games and other Staples Center events.

After landing at Los Angeles International Airport earlier this month, Space Shuttle Endeavour's final journey will be closer to the daily commute for thousands of Angelenos—a slow crawl through the streets of Los Angeles.
California Science Center Videos