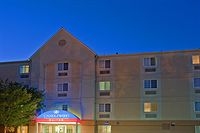 Candlewood Suites North Orange County
12901 Garden Grove Blvd, Garden Grove, CA 92843
1.800.252.0306
About Candlewood Suites North Orange County
Candlewood Suites North Orange County is a Hotel business in Garden Grove
Property Location
With a stay at Candlewood Suites North Orange County in Garden Grove (Disneyland - Anaheim), you'll be close to Garden Grove Hospital Medical Center and Disney California Adventure® Park. This aparthotel is within close proximity of Twin Lakes Recreation Park and Outlets at Orange.
Rooms
Make yourself at home in one of the 133 air-conditioned rooms featuring kitchens with refrigerators and stovetops. Satellite programming and DVD players are provided for your entertainment, while complimentary wireless Internet access keeps you connected. Conveniences include desks and microwaves.
Rec, Spa, Premium Amenities
Enjoy the recreation opportunities such as a fitness center or make use of other amenities including gift shops/newsstands.
Business, Other Amenities
Featured amenities include dry cleaning/laundry services, multilingual staff, and laundry facilities. Free self parking is available onsite.
Candlewood Suites North Orange County Amenities
Accessibility equipment for the deaf
Accessible bathroom
Accessible parking
Accessible path of travel
Braille or raised signage
Dry cleaning/laundry service
Fitness facilities
Free self parking
Gift shops or newsstand
In-room accessibility
Laundry facilities
Multilingual staff
Number of floors - 4
Pets allowed
Roll-in shower
Safe-deposit box at front desk
Total number of rooms - 133
Candlewood Suites North Orange County Studio Suite
1 queen bed
Entertainment - Free WiFi, premium channels, and DVD player
Food & Drink - Kitchen with refrigerator, stovetop, and microwave
Bathroom - Private bathroom with a hair dryer and a shower/tub combination
Practical - Free local calls and free newspaper

Room Amenities
Air conditioning
Coffee/tea maker
Connecting/adjoining rooms available
Cookware, dishware, and utensils
DVD player
Desk
Dishwasher
Free Wi-Fi
Free local calls
Hair dryer
Iron/ironing board
Kitchen
Microwave
Premium TV channels
Private bathroom
Refrigerator
Satellite TV service
Shower/tub combination
Stovetop
Candlewood Suites North Orange County Studio Suite, 1 Queen Bed, Non Smoking
1 queen bed
320 sq feet (30 sq meters)

Entertainment - Free WiFi, 25-inch TV with premium channels
Food & Drink - Kitchen with refrigerator, stovetop, and microwave
Bathroom - Private bathroom with a hair dryer and a shower/tub combination
Practical - Free local calls and free newspaper
Non-Smoking

Room Amenities
Air conditioning
Coffee/tea maker
Connecting/adjoining rooms available
Cookware, dishware, and utensils
DVD player
Desk
Dishwasher
Free Wi-Fi
Free local calls
Hair dryer
Iron/ironing board
Kitchen
Microwave
Premium TV channels
Private bathroom
Refrigerator
Satellite TV service
Shower/tub combination
Stovetop
Candlewood Suites North Orange County Studio Suite, 1 Queen Bed with Sofabed, Non Smoking
1 queen and 1 sofa bed
480 sq feet (45 sq meters)

Entertainment - Free WiFi, 25-inch TV with premium channels
Food & Drink - Kitchen with refrigerator, stovetop, and microwave
Bathroom - Private bathroom with a hair dryer and a shower/tub combination
Practical - Sitting area, free local calls, and free newspaper
Non-Smoking

Room Amenities
Air conditioning
Coffee/tea maker
Connecting/adjoining rooms available
Cookware, dishware, and utensils
DVD player
Desk
Dishwasher
Free Wi-Fi
Free local calls
Hair dryer
Iron/ironing board
Kitchen
Microwave
Premium TV channels
Private bathroom
Refrigerator
Satellite TV service
Shower/tub combination
Stovetop
Candlewood Suites North Orange County Standard Suite
1 bed
320 sq feet (30 sq meters)

Entertainment - Free WiFi, premium channels, and DVD player
Food & Drink - Kitchen with refrigerator, stovetop, and microwave
Bathroom - Private bathroom with a hair dryer and a shower/tub combination
Practical - Free local calls and free newspaper

Room Amenities
Air conditioning
Coffee/tea maker
Connecting/adjoining rooms available
Cookware, dishware, and utensils
DVD player
Desk
Dishwasher
Free Wi-Fi
Free local calls
Hair dryer
Iron/ironing board
Kitchen
Microwave
Premium TV channels
Private bathroom
Refrigerator
Satellite TV service
Shower/tub combination
Stovetop
Candlewood Suites North Orange County Studio, One Queen Bed, Accessible
1 queen bed
320 sq feet (30 sq meters)

Entertainment - Free WiFi, 25-inch TV with premium channels
Food & Drink - Kitchen with refrigerator, stovetop, and microwave
Bathroom - Private bathroom with a hair dryer and a shower/tub combination
Non-Smoking

Room Amenities
Air conditioning
Coffee/tea maker
Connecting/adjoining rooms available
Cookware, dishware, and utensils
DVD player
Desk
Dishwasher
Free Wi-Fi
Free local calls
Hair dryer
Iron/ironing board
Kitchen
Microwave
Premium TV channels
Private bathroom
Refrigerator
Satellite TV service
Shower/tub combination
Stovetop
Candlewood Suites North Orange County One Queen Bed, Non-Smoking, Accessible
1 queen bed
480 sq feet (45 sq meters)

Entertainment - Free WiFi, 25-inch TV with premium channels
Food & Drink - Kitchen with refrigerator, stovetop, and microwave
Bathroom - Private bathroom with a hair dryer and a shower/tub combination
Practical - Sitting area and free local calls
Non-Smoking, wheelchair accessible

Room Amenities
Air conditioning
Coffee/tea maker
Connecting/adjoining rooms available
Cookware, dishware, and utensils
DVD player
Desk
Dishwasher
Free Wi-Fi
Free local calls
Hair dryer
Iron/ironing board
Kitchen
Microwave
Premium TV channels
Private bathroom
Refrigerator
Satellite TV service
Shower/tub combination
Stovetop
Candlewood Suites North Orange County Studio, One Queen Bed, Roll In Shower
1 queen bed
Entertainment - Free WiFi, premium channels, and DVD player
Food & Drink - Kitchen with refrigerator, stovetop, and microwave
Bathroom - Private bathroom with a hair dryer and a shower/tub combination
Non-Smoking

Room Amenities
Air conditioning
Coffee/tea maker
Connecting/adjoining rooms available
Cookware, dishware, and utensils
DVD player
Desk
Dishwasher
Free Wi-Fi
Free local calls
Hair dryer
Iron/ironing board
Kitchen
Microwave
Premium TV channels
Private bathroom
Refrigerator
Satellite TV service
Shower/tub combination
Stovetop
Candlewood Suites North Orange County One Queen Bed, Non-Smoking, Roll In Shower
1 queen bed
Entertainment - Free WiFi, premium channels, and DVD player
Food & Drink - Kitchen with refrigerator, stovetop, and microwave
Bathroom - Private bathroom with a hair dryer and a shower/tub combination
Non-Smoking

Room Amenities
Air conditioning
Coffee/tea maker
Connecting/adjoining rooms available
Cookware, dishware, and utensils
DVD player
Desk
Dishwasher
Free Wi-Fi
Free local calls
Hair dryer
Iron/ironing board
Kitchen
Microwave
Premium TV channels
Private bathroom
Refrigerator
Satellite TV service
Shower/tub combination
Stovetop
Candlewood Suites North Orange County Studio Suite, 1 Queen Bed, Accessible, Non Smoking
1 queen bed
Entertainment - Free WiFi, premium channels, and DVD player
Food & Drink - Kitchen with refrigerator, stovetop, and microwave
Bathroom - Private bathroom with a hair dryer and a shower/tub combination
Non-Smoking

Room Amenities
Air conditioning
Coffee/tea maker
Connecting/adjoining rooms available
Cookware, dishware, and utensils
DVD player
Desk
Dishwasher
Free Wi-Fi
Free local calls
Hair dryer
Iron/ironing board
Kitchen
Microwave
Premium TV channels
Private bathroom
Refrigerator
Satellite TV service
Shower/tub combination
Stovetop
Candlewood Suites North Orange County Studio Suite, 1 Queen Bed, Accessible, Non Smoking
1 queen bed
Entertainment - Free WiFi, premium channels, and DVD player
Food & Drink - Kitchen with refrigerator, stovetop, and microwave
Bathroom - Private bathroom with a hair dryer and a shower/tub combination
Non-Smoking

Room Amenities
Air conditioning
Coffee/tea maker
Connecting/adjoining rooms available
Cookware, dishware, and utensils
DVD player
Desk
Dishwasher
Free Wi-Fi
Free local calls
Hair dryer
Iron/ironing board
Kitchen
Microwave
Premium TV channels
Private bathroom
Refrigerator
Satellite TV service
Shower/tub combination
Stovetop
Candlewood Suites North Orange County Studio Suite, 1 Queen Bed, Accessible, Non Smoking
1 queen bed
Entertainment - Free WiFi, premium channels, and DVD player
Food & Drink - Kitchen with refrigerator, stovetop, and microwave
Bathroom - Private bathroom with a hair dryer and a shower/tub combination
Non-Smoking

Room Amenities
Air conditioning
Coffee/tea maker
Connecting/adjoining rooms available
Cookware, dishware, and utensils
DVD player
Desk
Dishwasher
Free Wi-Fi
Free local calls
Hair dryer
Iron/ironing board
Kitchen
Microwave
Premium TV channels
Private bathroom
Refrigerator
Satellite TV service
Shower/tub combination
Stovetop
Candlewood Suites North Orange County Room, 1 Queen Bed, Accessible, Non Smoking
1 queen bed
Entertainment - Free WiFi, premium channels, and DVD player
Food & Drink - Kitchen with refrigerator, stovetop, and microwave
Bathroom - Private bathroom with a hair dryer and a shower/tub combination
Non-Smoking

Room Amenities
Air conditioning
Coffee/tea maker
Connecting/adjoining rooms available
Cookware, dishware, and utensils
DVD player
Desk
Dishwasher
Free Wi-Fi
Free local calls
Hair dryer
Iron/ironing board
Kitchen
Microwave
Premium TV channels
Private bathroom
Refrigerator
Satellite TV service
Shower/tub combination
Stovetop
Candlewood Suites North Orange County Room, 1 Queen Bed, Accessible, Non Smoking
1 queen bed
Entertainment - Free WiFi, premium channels, and DVD player
Food & Drink - Kitchen with refrigerator, stovetop, and microwave
Bathroom - Private bathroom with a hair dryer and a shower/tub combination
Non-Smoking

Room Amenities
Air conditioning
Coffee/tea maker
Connecting/adjoining rooms available
Cookware, dishware, and utensils
DVD player
Desk
Dishwasher
Free Wi-Fi
Free local calls
Hair dryer
Iron/ironing board
Kitchen
Microwave
Premium TV channels
Private bathroom
Refrigerator
Satellite TV service
Shower/tub combination
Stovetop
Candlewood Suites North Orange County Room, 1 Queen Bed, Accessible, Non Smoking
1 queen bed
Entertainment - Free WiFi, premium channels, and DVD player
Food & Drink - Kitchen with refrigerator, stovetop, and microwave
Bathroom - Private bathroom with a hair dryer and a shower/tub combination
Non-Smoking

Room Amenities
Air conditioning
Coffee/tea maker
Connecting/adjoining rooms available
Cookware, dishware, and utensils
DVD player
Desk
Dishwasher
Free Wi-Fi
Free local calls
Hair dryer
Iron/ironing board
Kitchen
Microwave
Premium TV channels
Private bathroom
Refrigerator
Satellite TV service
Shower/tub combination
Stovetop
Candlewood Suites North Orange County Standard
2 double beds
Entertainment - Free WiFi, premium channels, and DVD player
Food & Drink - Kitchen with refrigerator, stovetop, and microwave
Bathroom - Private bathroom with a hair dryer and a shower/tub combination
Practical - Free local calls and free newspaper

Room Amenities
Air conditioning
Coffee/tea maker
Connecting/adjoining rooms available
Cookware, dishware, and utensils
DVD player
Desk
Dishwasher
Free Wi-Fi
Free local calls
Hair dryer
Iron/ironing board
Kitchen
Microwave
Premium TV channels
Private bathroom
Refrigerator
Satellite TV service
Shower/tub combination
Stovetop