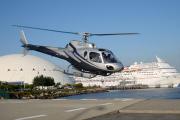 Edit
Catalina Island Helicopter Flight from Long Beach
About Catalina Island Helicopter Flight from Long Beach
Indulge in this thrilling helicopter flight from Long Beach to Catalina Island - the fastest, most glamorous way to reach the resort island off the coast of Los Angeles. Admire the 'Queen Mary' as you take off, and fly over dolphins and whales on your way to Avalon, the major town on pristine Catalina Island. Capture gorgeous photos and kick off your vacation or special event in style with this convenient morning, mid-day or afternoon flight.
Board your comfortable helicopter at the Long Beach Heliport, located adjacent to the Queen Mary - the regal passenger ship that sailed the Atlantic for decades. As you take off, enjoy aerial views of the magnificent ship and the scenic coastline.

Head out over the lovely waters of the Pacific, keeping your eyes open for dolphins and whales as you travel toward Catalina Island, one of the eight Channel Islands. This breathtaking island is known for its seaside cliffs, lush interior and romantic ambiance. With its quaint towns, variety of water activities, and wildlife such as buffalo, eagles and the Catalina Island fox, the island offers plenty of diversions and is a popular destination for everything from quick getaways to milestone events.

During your exhilarating flight, learn about Catalina Island's history, geology and wildlife from your informative pilot, and take your fill of gorgeous photos. Your 15-minute helicopter ride to Catalina Island ends with touchdown at the Pebbly Beach Heliport on the outskirts of idyllic Avalon, Catalina Island's biggest town.