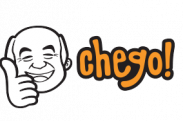 Edit
Chego!
727 North Broadway #117
, Los Angeles
, CA
90012
|
Directions
Hours:
Tue-Sat:
11:00 am - 11:00 pm
/
Sun:
11:00 am - 9:00 pm
/
About Chego!
From the Kogi BBQ team comes their first sit-down restaurant, Chego!, Roy Choi's riff on L.A. soul -- in a rice bowl. Celebrating the best parts of L.A. with both out-of-towners and locals.
April of 2010, Chego became their first sit-down, brick and mortar restaurant. Taking a short break from the streets to chill and cheer from the sidelines, this happy, humble little LA-in-a-rice bowl restaurant full win and the color orange set out to reinvigorate the rice bowl. Slow roasted prime rib with creamed horseradish? Check. Sticky-sweet slabs of Berkshire pork belly over hot rice and fried egg? Done. A jukebox of feelings and L.A. youth piped in through the speakers? It's been Chego Man approved.

Roy Choi mans the menu, Jose Cervantes GM's the place, with Jose Pelayo at the ready.

Currently, Chego's secured its east side location in Chinatown. Carefully tucked inside the tummy of Far East Plaza and stationed next to Dat Vim, the happiest Vietnamese Chinese music shop this side of the city. Validated parking is available.
Articles mentioning Chego!
Chef Roy Choi pioneered the Los Angeles food truck craze when he rolled out the very first Kogi BBQ truck, serving up fusion Korean BBQ, in 2008. Four years later, hundreds of food trucks roam the city among four Kogi BBQ trucks and Choi's empire has expanded to four different brick-and-mortar ventures: A-Frame, Sunny Spot, Alibi Room and Chego, which is currently under renovation.
Chego! Videos