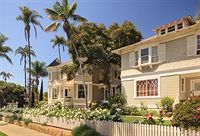 Cheshire Cat Inn
36 W Valerio St, Santa Barbara, CA 93101
1.800.252.0306
About Cheshire Cat Inn
Cheshire Cat Inn is a Hotel business in Ventura & Santa Barbara
Property Location
With a stay at Cheshire Cat Inn in Santa Barbara, you'll be in the historical district and minutes from Santa Barbara Symphony Orchestra and close to Santa Barbara County Courthouse. This hotel is close to Mission Santa Barbara and Presidio Santa Barbara.
Rooms
Make yourself at home in one of the 18 individually decorated guestrooms, featuring iPod docking stations and LCD televisions. Cable programming and DVD players are provided for your entertainment, while complimentary wireless Internet access keeps you connected. Private bathrooms have designer toiletries and complimentary toiletries. Conveniences include irons/ironing boards and in-room massages, and housekeeping is provided daily.
Rec, Spa, Premium Amenities
Pamper yourself with onsite facials or enjoy recreation amenities such as a spa tub. Additional amenities at this Victorian hotel include complimentary wireless Internet access and concierge services.
Dining
Take advantage of the hotel's room service (during limited hours). Mingle with other guests at a complimentary reception, held daily.
Business, Other Amenities
Featured amenities include a 24-hour business center, a computer station, and coffee/tea in the lobby. Free self parking is available onsite.
Cheshire Cat Inn Amenities
24-hour business center
Coffee/tea in lobby
Complimentary reception
Computer station
Concierge services
Free Wi-Fi
Free breakfast
Free self parking
Number of buildings/towers - 5
Number of floors - 2
Spa services on site
Spa tub
Total number of rooms - 18
Year Built1985
Cheshire Cat Inn Mock turtle
1 queen bed
Relax - In-room massage available
Entertainment - Free WiFi, 32-inch LCD TV with cable channels
Bathroom - Private bathroom with a shower, bathrobes, and designer toiletries
Non-Smoking

Room Amenities
Air conditioning
Bathrobes
Cable TV service
Complimentary toiletries
DVD player
Daily housekeeping
Designer toiletries
Free Wi-Fi
Free local calls
Hair dryer
In-room massage available
Individually decorated
Individually furnished
Iron/ironing board
LCD TV
Private bathroom
Room service (limited hours)
Yard
iPod docking station
Cheshire Cat Inn March hare
1 queen bed
Relax - In-room massage available
Entertainment - Free WiFi, 32-inch LCD TV with cable channels
Bathroom - Private bathroom with bathrobes, designer toiletries, and free toiletries
Non-Smoking

Room Amenities
Air conditioning
Bathrobes
Cable TV service
Complimentary toiletries
DVD player
Daily housekeeping
Designer toiletries
Free Wi-Fi
Free local calls
Hair dryer
In-room massage available
Individually decorated
Individually furnished
Iron/ironing board
LCD TV
Private bathroom
Room service (limited hours)
Yard
iPod docking station
Cheshire Cat Inn Dormouse
1 queen bed
Relax - Fireplace; in-room massage available
Entertainment - Free WiFi, 32-inch LCD TV with cable channels
Bathroom - Private bathroom with a shower, bathrobes, and designer toiletries
Non-Smoking

Room Amenities
Air conditioning
Bathrobes
Cable TV service
Complimentary toiletries
DVD player
Daily housekeeping
Designer toiletries
Free Wi-Fi
Free local calls
Hair dryer
In-room massage available
Individually decorated
Individually furnished
Iron/ironing board
LCD TV
Private bathroom
Room service (limited hours)
Yard
iPod docking station
Cheshire Cat Inn Duchess
1 queen bed
Overlooking the courtyard

Relax - In-room massage available
Entertainment - Free WiFi, 32-inch LCD TV with cable channels
Bathroom - Private bathroom with a shower/tub combination, bathrobes, and designer toiletries
Non-Smoking

Room Amenities
Air conditioning
Bathrobes
Cable TV service
Complimentary toiletries
DVD player
Daily housekeeping
Designer toiletries
Free Wi-Fi
Free local calls
Hair dryer
In-room massage available
Individually decorated
Individually furnished
Iron/ironing board
LCD TV
Private bathroom
Room service (limited hours)
Yard
iPod docking station
Cheshire Cat Inn Catepillar
1 queen bed
Furnished balcony with garden views

Relax - In-room massage available
Entertainment - Free WiFi, 32-inch LCD TV with cable channels
Bathroom - Private bathroom with a shower, bathrobes, and designer toiletries
Non-Smoking

Room Amenities
Air conditioning
Bathrobes
Cable TV service
Complimentary toiletries
DVD player
Daily housekeeping
Designer toiletries
Free Wi-Fi
Free local calls
Hair dryer
In-room massage available
Individually decorated
Individually furnished
Iron/ironing board
LCD TV
Private bathroom
Room service (limited hours)
Yard
iPod docking station
Cheshire Cat Inn Cheshire cat
1 king bed
Relax - In-room massage available
Entertainment - Free WiFi, 32-inch LCD TV with cable channels
Bathroom - Partially open bathroom with a jetted bathtub and separate shower
Non-Smoking

Room Amenities
Air conditioning
Bathrobes
Cable TV service
Complimentary toiletries
DVD player
Daily housekeeping
Designer toiletries
Free Wi-Fi
Free local calls
Hair dryer
In-room massage available
Individually decorated
Individually furnished
Iron/ironing board
LCD TV
Private bathroom
Room service (limited hours)
Yard
iPod docking station
Cheshire Cat Inn Eberle
1 queen bed
Relax - Private spa tub and fireplace; in-room massage available
Entertainment - Free WiFi, 32-inch LCD TV with cable channels
Bathroom - Private bathroom with a jetted bathtub and separate shower
Non-Smoking

Room Amenities
Air conditioning
Bathrobes
Cable TV service
Complimentary toiletries
DVD player
Daily housekeeping
Designer toiletries
Free Wi-Fi
Free local calls
Hair dryer
In-room massage available
Individually decorated
Individually furnished
Iron/ironing board
LCD TV
Private bathroom
Room service (limited hours)
Yard
iPod docking station
Cheshire Cat Inn Alice's
1 king bed
Balcony with garden views

Relax - In-room massage available
Entertainment - Free WiFi, 32-inch LCD TV with cable channels
Bathroom - Private bathroom with a shower, bathrobes, and designer toiletries
Practical - Sitting area and free local calls
Non-Smoking

Room Amenities
Air conditioning
Bathrobes
Cable TV service
Complimentary toiletries
DVD player
Daily housekeeping
Designer toiletries
Free Wi-Fi
Free local calls
Hair dryer
In-room massage available
Individually decorated
Individually furnished
Iron/ironing board
LCD TV
Private bathroom
Room service (limited hours)
Yard
iPod docking station
Cheshire Cat Inn White rabbit - shared bath
1 king bed
Relax - In-room massage available
Entertainment - Free WiFi, 32-inch LCD TV with cable channels
Bathroom - Private bathroom with a shower, bathrobes, and designer toiletries
Non-Smoking

Room Amenities
Air conditioning
Bathrobes
Cable TV service
Complimentary toiletries
DVD player
Daily housekeeping
Designer toiletries
Free Wi-Fi
Free local calls
Hair dryer
In-room massage available
Individually decorated
Individually furnished
Iron/ironing board
LCD TV
Private bathroom
Room service (limited hours)
Yard
iPod docking station
Cheshire Cat Inn Mad hatter
1 king bed
Relax - In-room massage available
Entertainment - Free WiFi, 32-inch LCD TV with cable channels
Bathroom - Private bathroom with a shower, bathrobes, and designer toiletries
Non-Smoking

Room Amenities
Air conditioning
Bathrobes
Cable TV service
Complimentary toiletries
DVD player
Daily housekeeping
Designer toiletries
Free Wi-Fi
Free local calls
Hair dryer
In-room massage available
Individually decorated
Individually furnished
Iron/ironing board
LCD TV
Private bathroom
Room service (limited hours)
Yard
iPod docking station
Cheshire Cat Inn Jean's
1 king bed
Relax - In-room massage available
Entertainment - Free WiFi, 32-inch LCD TV with cable channels
Bathroom - Private bathroom with a shower, bathrobes, and designer toiletries
Non-Smoking

Room Amenities
Air conditioning
Bathrobes
Cable TV service
Complimentary toiletries
DVD player
Daily housekeeping
Designer toiletries
Free Wi-Fi
Free local calls
Hair dryer
In-room massage available
Individually decorated
Individually furnished
Iron/ironing board
LCD TV
Private bathroom
Room service (limited hours)
Yard
iPod docking station
Cheshire Cat Inn Queen of hearts
1 king bed
Relax - In-room massage available
Entertainment - Free WiFi, 32-inch LCD TV with cable channels
Bathroom - Private bathroom with bathrobes, designer toiletries, and free toiletries
Non-Smoking

Room Amenities
Air conditioning
Bathrobes
Cable TV service
Complimentary toiletries
DVD player
Daily housekeeping
Designer toiletries
Free Wi-Fi
Free local calls
Hair dryer
In-room massage available
Individually decorated
Individually furnished
Iron/ironing board
LCD TV
Private bathroom
Room service (limited hours)
Yard
iPod docking station
Cheshire Cat Inn Tweedledee
1 king bed
Relax - In-room massage available
Entertainment - Free WiFi, 32-inch LCD TV with cable channels
Bathroom - Private bathroom with bathrobes, designer toiletries, and free toiletries
Non-Smoking

Room Amenities
Air conditioning
Bathrobes
Cable TV service
Complimentary toiletries
DVD player
Daily housekeeping
Designer toiletries
Free Wi-Fi
Free local calls
Hair dryer
In-room massage available
Individually decorated
Individually furnished
Iron/ironing board
LCD TV
Private bathroom
Room service (limited hours)
Yard
iPod docking station
Cheshire Cat Inn Tweedledum
1 king bed
Relax - Fireplace; in-room massage available
Entertainment - Free WiFi, 32-inch LCD TV with cable channels
Bathroom - Private bathroom with a jetted bathtub
Non-Smoking

Room Amenities
Air conditioning
Bathrobes
Cable TV service
Complimentary toiletries
DVD player
Daily housekeeping
Designer toiletries
Free Wi-Fi
Free local calls
Hair dryer
In-room massage available
Individually decorated
Individually furnished
Iron/ironing board
LCD TV
Private bathroom
Room service (limited hours)
Yard
iPod docking station
Cheshire Cat Inn Mobberly
1 queen bed or 2 twin beds
Relax - In-room massage available
Entertainment - Free WiFi, 32-inch LCD TV with cable channels
Bathroom - Private bathroom with bathrobes, designer toiletries, and free toiletries
Non-Smoking

Room Amenities
Air conditioning
Bathrobes
Cable TV service
Complimentary toiletries
DVD player
Daily housekeeping
Designer toiletries
Free Wi-Fi
Free local calls
Hair dryer
In-room massage available
Individually decorated
Individually furnished
Iron/ironing board
LCD TV
Private bathroom
Room service (limited hours)
Yard
iPod docking station
Cheshire Cat Inn Prestbury
1 king bed or 1 queen bed
Relax - In-room massage available
Entertainment - Free WiFi, 32-inch LCD TV with cable channels
Bathroom - Private bathroom with bathrobes, designer toiletries, and free toiletries
Non-Smoking

Room Amenities
Air conditioning
Bathrobes
Cable TV service
Complimentary toiletries
DVD player
Daily housekeeping
Designer toiletries
Free Wi-Fi
Free local calls
Hair dryer
In-room massage available
Individually decorated
Individually furnished
Iron/ironing board
LCD TV
Private bathroom
Room service (limited hours)
Yard
iPod docking station
Cheshire Cat Inn Woodford
1 king bed or 1 queen bed
Relax - In-room massage available
Entertainment - Free WiFi, 32-inch LCD TV with cable channels
Bathroom - Private bathroom with bathrobes, designer toiletries, and free toiletries
Non-Smoking

Room Amenities
Air conditioning
Bathrobes
Cable TV service
Complimentary toiletries
DVD player
Daily housekeeping
Designer toiletries
Free Wi-Fi
Free local calls
Hair dryer
In-room massage available
Individually decorated
Individually furnished
Iron/ironing board
LCD TV
Private bathroom
Room service (limited hours)
Yard
iPod docking station
Cheshire Cat Inn Standard Room (Bramhall)
1 queen bed or 1 twin bed
Relax - In-room massage available
Entertainment - Free WiFi, 32-inch LCD TV with cable channels
Bathroom - Private bathroom with bathrobes, designer toiletries, and free toiletries
Non-Smoking

Room Amenities
Air conditioning
Bathrobes
Cable TV service
Complimentary toiletries
DVD player
Daily housekeeping
Designer toiletries
Free Wi-Fi
Free local calls
Hair dryer
In-room massage available
Individually decorated
Individually furnished
Iron/ironing board
LCD TV
Private bathroom
Room service (limited hours)
Yard
iPod docking station