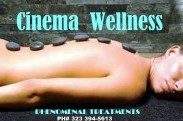 Edit
Cinema Wellness - An Aesthetic Skin & Body Boutique
2528 Hyperion Ave
, Los Angeles
, CA
90027
|
Directions
Hours:
Mon-Sun:
9:00 am - 7:00 pm
/
About Cinema Wellness - An Aesthetic Skin & Body Boutique
Cinema Wellness is a whole body boutique for skin care and massage therapy. Our services are offered in a relaxing boutique spa setting for both skin and whole body treatments and to assist with Holistic Health goals.
Cinema Wellness it's a Lifestyle our mission and passion is to transform your skin; in addition we believe that Massage is a diverse healing that can function as performance enhancement for the athletic training, as Therapy, Rehabilitation, Stress Reduction or Simply an Indulgence.