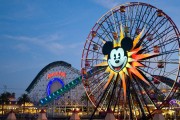 Edit
Disney California Adventure
1313 S Harbor Blvd
, Anaheim
, CA
92802
|
Directions
Hours:
Mon-Sun:
10:00 am - 8:00 pm
/
About Disney California Adventure
The "Happiest Place On Earth" is never far when you're in Southern California. Disneyland is the most popular tourist attraction in the state, drawing over 16 million visitors per year that want to regale in the world famous Disney hospitality.
Articles mentioning Disney California Adventure
11 tips for visiting Disneyland from the folks who wrote the book on it, the Unofficial Guide to Disneyland 2015.

The newest class of celebrity in Los Angeles are the actors that appear in popular web series across the web. To learn more about what goes into a web series we sat down with Ronit Aranoff one of the emerging stars of this medium, to learn what it takes to be a web series star in LA.