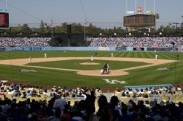 Edit
Los Angeles Dodgers
1000 Elysian Park Ave
, Los Angeles
, CA
90012
|
Directions
About Los Angeles Dodgers
The six-time world series champion Los Angeles Dodgers are one of the most popular baseball teams in the world, attracting baseball enthusiasts from all around the world each year to Chavez Ravine.
Nothing is more American than baseball (sorry, Apple Pie) and nothing says Los Angeles leisure and entertainment like a game with the Dodgers. Having won six World Series titles during the franchise history, the Dodgers's roster has featured some of the most notable names in the history of the sport, including Jackie Robinson and Roy Campanella. Come and see why the Dodgers are synonymous with All-American fun, SoCal style!
Articles mentioning Los Angeles Dodgers
Father's day is approaching on June 15 with a variety of events to celebrate the holiday. From an afternoon with the LA Dodgers to classic jazz at Playboy Jazz Festival, here are five options bonding with Dad over the holiday weekend.