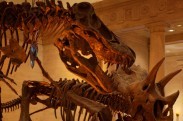 Edit
Natural History Museum Of Los Angeles County
900 Exposition Blvd
, Los Angeles
, CA
90007
|
Directions
Hours:
Mon-Sun:
9:30 am - 5:00 pm
/
About Natural History Museum Of Los Angeles County
The Natural History Museum of Los Angeles County protects over 35 million specimens, dating back 4.5 billion years.
See dinosaurs in our new Dinosaur Hall, including the world's only Tyrannosaurus rex growth series. Get the behind-the-scenes look at how scientists work on fossils at our Dino Lab. See 240 specimens, including skeletons from mastodons to whales, animal dioramas from North American and Africa, and more.

Stroll through our extensive Nature Gardens, and discover true stories about plants and animals in our Nature Lab. See and touch more than 2,000 spectacular specimens displayed in our Gem and Mineral Hall, and enter into the vault to view diamonds, rubies, sapphires, and other exquisite gems.

Our Butterfly and Spider Pavilions are open seasonally. Here you can wander through the changing ecosystem with over 30 species of fluttering butterflies all around you, or witness arachnids up close and personal.
Articles mentioning Natural History Museum Of Los Angeles County
When it comes to romantic date ideas in LA, there is no shortage of unique and exciting activities for couples to enjoy. In fact, Los Angeles is such a lucky city for love that dozens of movies have been made on the topic—Yes Man, Valentine's Day, Pretty Woman and The Holiday, just to name a…

There are several museums in Los Angeles that are kid friendly, providing parents and children ample opportunities to learn and be entertained at the same time.
Natural History Museum Of Los Angeles County Videos