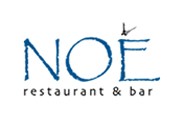 Edit
Noe Restaurant And Bar
251 S Olive St
, Los Angeles
, CA
90012
|
Directions
Hours:
Mon-Thu, Sun:
5:00 pm - 10:00 pm
/
Fri, Sat:
5:00 pm - 11:00 pm
/
About Noe Restaurant And Bar
Elegant Dining Oasis in Downtown LA
Noé Restaurant, located in the Omni Hotel in Downtown LA, has an amazing staff that is there to create the most unforgettable dining experience for both large and small groups looking for private dining. Inside the restaurant there are two private dining areas plus a beautiful outside patio where parties can take in and enjoy LA's beautiful downtown skyline.

The Private Dining room offers setting for private parties up to 18 people and is in a room that can be completely closed off from the main dining room. For larger parties consisting between 10-35 guests, the Eiffel Tower room can be used and also has the patio, which overlooks the Califonia Watercourt Plaza. Come experience fine private dining at Noé!

Noé Restaurant is nestled in downtown Los Angeles' fabulous Omni Hotel at the California Plaza. Noé features Executive Chef Glen Ishii who has created a constantly evolving menu of progressive American cuisine. Chef Ishii selects the finest and freshest ingredients according to availability — the best meat, fish and produce around. Tucked into the Omni Hotel's third floor, Noé, a true Los Angeles restaurant, offers patio dining for those looking to take in the beautiful downtown LA scenery and nightlife.

Noé can certainly provide the perfect ambience for most any occasion. Whether it be a romantic dinner, staying at the Omni Hotel for business or a night out with family, Noé has provides a setting for everyone.

Though the menu is constantly changing like the seasons, the atmosphere in the restaurant is always calm and soothing. Subtle color schemes of cobalt blue and tan reflect the design by Curtis Schnell — take people away from the feel of a hotel and provide diners with a totally different and unexpected experience.

Progressive American Cuisine

Executive Chef Glen Ishii's progressive style of cooking uses the finest quality ingredients to create dazzling textures and flavors. A Los Angeles native, Ishii draws upon his Japanese heritage and classical French training to create one-of-a-kind dishes like Hamachi Sashimi with Yuzu Crème Fraiche and Citrus Segments, and Liberty Farm Duck Breast, Serrano Ham Galette, Poached Ramps and Blueberry Sauce.

During the summer there are six and nine course tasting menus available nightly, as well as a special three-course tasting menu that can be served on the patio. And for diners looking for a serious challenge, there is always the 21-course menu.

Noé Bar

Looking to relax after a big day of business meetings? Try a Noé signature martini! Step up to the Noé Bar, a relaxing spot that features a full menu of signature Martinis. Noé, located in the Omni Hotel in downtown LA's California Plaza, also has a humidor filled with 16 varieties of quality cigars to be savored. Feel free to walk out on the restaurant's patio and enjoy a puff.