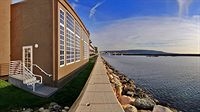 Portofino Hotel & Marina - A Noble House Hotel
260 Portofino Way, Redondo Beach, CA 90277
1.800.252.0306
About Portofino Hotel & Marina - A Noble House Hotel
Portofino Hotel & Marina - A Noble House Hotel is a Hotel business in Redondo Beach
Property Location
With a stay at Portofino Hotel & Marina - A Noble House Hotel in Redondo Beach (Beach Cities), you'll be minutes from King Harbor Marina and Redondo Beach Pier. This 4-star hotel is within close proximity of Vincent Park and Hermosa Beach Pier.
Rooms
Make yourself at home in one of the 161 air-conditioned rooms featuring minibars and DVD players. Rooms have private patios. Cable programming and video-game consoles are provided for your entertainment, while wireless Internet access (surcharge) keeps you connected. Bathrooms feature shower/tub combinations, complimentary toiletries, and hair dryers.
Rec, Spa, Premium Amenities
Don't miss out on the many recreational opportunities, including an outdoor pool, a spa tub, and a 24-hour fitness center. Additional amenities include wireless Internet access (surcharge), concierge services, and wedding services.
Dining
Enjoy a meal at a restaurant, or stay in and take advantage of the hotel's room service (during limited hours). Quench your thirst with your favorite drink at a bar/lounge.
Business, Other Amenities
Featured amenities include a business center, dry cleaning/laundry services, and a 24-hour front desk. Event facilities at this hotel consist of conference space and meeting rooms. Self parking (subject to charges) is available onsite.
Portofino Hotel & Marina - A Noble House Hotel Amenities
24-hour fitness facilities
24-hour front desk
Accessibility equipment for the deaf
Accessible bathroom
Accessible parking
Accessible path of travel
Bar/lounge
Braille or raised signage
Breakfast available (surcharge)
Business center
Coffee/tea in lobby
Concierge services
Conference space
Dry cleaning/laundry service
Elevator/lift
Fireplace in lobby
In-room accessibility
Marina on site
Meeting rooms
Multilingual staff
Number of floors - 3
Outdoor pool
Porter/bellhop
Restaurant
Roll-in shower
Safe-deposit box at front desk
Self parking (surcharge)
Smoke-free property
Spa tub
Total number of rooms - 161
Valet parking (surcharge)
Wedding services
Wireless Internet access - surcharge
Portofino Hotel & Marina - A Noble House Hotel Ocean Side King Bed
1 king bed
Features a private patio

Entertainment - WiFi, cable channels, and pay movies
Food & Drink - Coffee/tea maker and minibar
Bathroom - Shower/tub combination, bathrobes, and free toiletries
Non-Smoking

Room Amenities
Air conditioning
Bathrobes
Cable TV service
Climate control
Coffee/tea maker
Complimentary toiletries
Complimentary weekday newspaper
Cribs/infant beds available
DVD player
Daily housekeeping
Desk
Free local calls
Hair dryer
Iron/ironing board
Minibar
Patio
Pay movies
Rollaway/extra beds available
Room service (limited hours)
Shower/tub combination
Video-game console
Wireless Internet access (surcharge)
Portofino Hotel & Marina - A Noble House Hotel Ocean Jacuzzi King Bed
1 king bed
Features a private patio

Entertainment - WiFi, cable channels, and pay movies
Food & Drink - Coffee/tea maker and minibar
Bathroom - Shower/tub combination, bathrobes, and free toiletries
Non-Smoking

Room Amenities
Air conditioning
Bathrobes
Cable TV service
Climate control
Coffee/tea maker
Complimentary toiletries
Complimentary weekday newspaper
Cribs/infant beds available
DVD player
Daily housekeeping
Desk
Free local calls
Hair dryer
Iron/ironing board
Minibar
Patio
Pay movies
Rollaway/extra beds available
Room service (limited hours)
Shower/tub combination
Video-game console
Wireless Internet access (surcharge)
Portofino Hotel & Marina - A Noble House Hotel Ocean Side 2 Double Beds
2 double beds
Features a private patio

Entertainment - WiFi, cable channels, and pay movies
Food & Drink - Coffee/tea maker and minibar
Bathroom - Shower/tub combination, bathrobes, and free toiletries
Non-Smoking

Room Amenities
Air conditioning
Bathrobes
Cable TV service
Climate control
Coffee/tea maker
Complimentary toiletries
Complimentary weekday newspaper
Cribs/infant beds available
DVD player
Daily housekeeping
Desk
Free local calls
Hair dryer
Iron/ironing board
Minibar
Patio
Pay movies
Rollaway/extra beds available
Room service (limited hours)
Shower/tub combination
Video-game console
Wireless Internet access (surcharge)
Portofino Hotel & Marina - A Noble House Hotel Premier Room, 1 King Bed, Ocean View
1 king bed
Features a private patio

Entertainment - WiFi, cable channels, and pay movies
Food & Drink - Coffee/tea maker and minibar
Bathroom - Shower/tub combination, bathrobes, and free toiletries
Non-Smoking

Room Amenities
Air conditioning
Bathrobes
Cable TV service
Climate control
Coffee/tea maker
Complimentary toiletries
Complimentary weekday newspaper
Cribs/infant beds available
DVD player
Daily housekeeping
Desk
Free local calls
Hair dryer
Iron/ironing board
Minibar
Patio
Pay movies
Rollaway/extra beds available
Room service (limited hours)
Shower/tub combination
Video-game console
Wireless Internet access (surcharge)
Portofino Hotel & Marina - A Noble House Hotel Marina Side King Bed
1 king bed
Features a private patio

Entertainment - WiFi, cable channels, and pay movies
Food & Drink - Coffee/tea maker and minibar
Bathroom - Shower/tub combination, bathrobes, and free toiletries
Non-Smoking

Room Amenities
Air conditioning
Bathrobes
Cable TV service
Climate control
Coffee/tea maker
Complimentary toiletries
Complimentary weekday newspaper
Cribs/infant beds available
DVD player
Daily housekeeping
Desk
Free local calls
Hair dryer
Iron/ironing board
Minibar
Patio
Pay movies
Rollaway/extra beds available
Room service (limited hours)
Shower/tub combination
Video-game console
Wireless Internet access (surcharge)
Portofino Hotel & Marina - A Noble House Hotel Marina Side 2 Double Beds
2 double beds
Features a private patio

Entertainment - WiFi, cable channels, and pay movies
Food & Drink - Coffee/tea maker and minibar
Bathroom - Shower/tub combination, bathrobes, and free toiletries
Non-Smoking

Room Amenities
Air conditioning
Bathrobes
Cable TV service
Climate control
Coffee/tea maker
Complimentary toiletries
Complimentary weekday newspaper
Cribs/infant beds available
DVD player
Daily housekeeping
Desk
Free local calls
Hair dryer
Iron/ironing board
Minibar
Patio
Pay movies
Rollaway/extra beds available
Room service (limited hours)
Shower/tub combination
Video-game console
Wireless Internet access (surcharge)
Portofino Hotel & Marina - A Noble House Hotel Marina Side King Bed
1 king bed
Features a private patio

Entertainment - WiFi, cable channels, and pay movies
Food & Drink - Coffee/tea maker and minibar
Bathroom - Shower/tub combination, bathrobes, and free toiletries
Non-Smoking

Room Amenities
Air conditioning
Bathrobes
Cable TV service
Climate control
Coffee/tea maker
Complimentary toiletries
Complimentary weekday newspaper
Cribs/infant beds available
DVD player
Daily housekeeping
Desk
Free local calls
Hair dryer
Iron/ironing board
Minibar
Patio
Pay movies
Rollaway/extra beds available
Room service (limited hours)
Shower/tub combination
Video-game console
Wireless Internet access (surcharge)
Portofino Hotel & Marina - A Noble House Hotel Ocean Jacuzzi King Bed
1 king bed
Features a private patio

Entertainment - WiFi, cable channels, and pay movies
Food & Drink - Coffee/tea maker and minibar
Bathroom - Shower/tub combination, bathrobes, and free toiletries
Non-Smoking

Room Amenities
Air conditioning
Bathrobes
Cable TV service
Climate control
Coffee/tea maker
Complimentary toiletries
Complimentary weekday newspaper
Cribs/infant beds available
DVD player
Daily housekeeping
Desk
Free local calls
Hair dryer
Iron/ironing board
Minibar
Patio
Pay movies
Rollaway/extra beds available
Room service (limited hours)
Shower/tub combination
Video-game console
Wireless Internet access (surcharge)
Portofino Hotel & Marina - A Noble House Hotel Ocean Premier King Bed
1 king bed
Features a private patio

Entertainment - WiFi, cable channels, and pay movies
Food & Drink - Coffee/tea maker and minibar
Bathroom - Shower/tub combination, bathrobes, and free toiletries
Non-Smoking

Room Amenities
Air conditioning
Bathrobes
Cable TV service
Climate control
Coffee/tea maker
Complimentary toiletries
Complimentary weekday newspaper
Cribs/infant beds available
DVD player
Daily housekeeping
Desk
Free local calls
Hair dryer
Iron/ironing board
Minibar
Patio
Pay movies
Rollaway/extra beds available
Room service (limited hours)
Shower/tub combination
Video-game console
Wireless Internet access (surcharge)
Portofino Hotel & Marina - A Noble House Hotel Ocean Side 2 Double Beds
2 double beds
Features a private patio

Entertainment - WiFi, cable channels, and pay movies
Food & Drink - Coffee/tea maker and minibar
Bathroom - Shower/tub combination, bathrobes, and free toiletries
Non-Smoking

Room Amenities
Air conditioning
Bathrobes
Cable TV service
Climate control
Coffee/tea maker
Complimentary toiletries
Complimentary weekday newspaper
Cribs/infant beds available
DVD player
Daily housekeeping
Desk
Free local calls
Hair dryer
Iron/ironing board
Minibar
Patio
Pay movies
Rollaway/extra beds available
Room service (limited hours)
Shower/tub combination
Video-game console
Wireless Internet access (surcharge)
Portofino Hotel & Marina - A Noble House Hotel Ocean Side King Bed
1 king bed
Features a private patio

Entertainment - WiFi, cable channels, and pay movies
Food & Drink - Coffee/tea maker and minibar
Bathroom - Shower/tub combination, bathrobes, and free toiletries
Non-Smoking

Room Amenities
Air conditioning
Bathrobes
Cable TV service
Climate control
Coffee/tea maker
Complimentary toiletries
Complimentary weekday newspaper
Cribs/infant beds available
DVD player
Daily housekeeping
Desk
Free local calls
Hair dryer
Iron/ironing board
Minibar
Patio
Pay movies
Rollaway/extra beds available
Room service (limited hours)
Shower/tub combination
Video-game console
Wireless Internet access (surcharge)
Portofino Hotel & Marina - A Noble House Hotel Ocean Side King Bed
1 king bed
Features a private patio

Entertainment - WiFi, cable channels, and pay movies
Food & Drink - Coffee/tea maker and minibar
Bathroom - Shower/tub combination, bathrobes, and free toiletries
Non-Smoking

Room Amenities
Air conditioning
Bathrobes
Cable TV service
Climate control
Coffee/tea maker
Complimentary toiletries
Complimentary weekday newspaper
Cribs/infant beds available
DVD player
Daily housekeeping
Desk
Free local calls
Hair dryer
Iron/ironing board
Minibar
Patio
Pay movies
Rollaway/extra beds available
Room service (limited hours)
Shower/tub combination
Video-game console
Wireless Internet access (surcharge)
Portofino Hotel & Marina - A Noble House Hotel Marina Side 2 Double Beds
2 double beds
Features a private patio

Entertainment - WiFi, cable channels, and pay movies
Food & Drink - Coffee/tea maker and minibar
Bathroom - Shower/tub combination, bathrobes, and free toiletries
Non-Smoking

Room Amenities
Air conditioning
Bathrobes
Cable TV service
Climate control
Coffee/tea maker
Complimentary toiletries
Complimentary weekday newspaper
Cribs/infant beds available
DVD player
Daily housekeeping
Desk
Free local calls
Hair dryer
Iron/ironing board
Minibar
Patio
Pay movies
Rollaway/extra beds available
Room service (limited hours)
Shower/tub combination
Video-game console
Wireless Internet access (surcharge)
Portofino Hotel & Marina - A Noble House Hotel Room, 2 Double Beds (Ocean Side)
2 double beds
Features a private patio

Entertainment - WiFi, cable channels, and pay movies
Food & Drink - Coffee/tea maker and minibar
Bathroom - Shower/tub combination, bathrobes, and free toiletries
Non-Smoking

Room Amenities
Air conditioning
Bathrobes
Cable TV service
Climate control
Coffee/tea maker
Complimentary toiletries
Complimentary weekday newspaper
Cribs/infant beds available
DVD player
Daily housekeeping
Desk
Free local calls
Hair dryer
Iron/ironing board
Minibar
Patio
Pay movies
Rollaway/extra beds available
Room service (limited hours)
Shower/tub combination
Video-game console
Wireless Internet access (surcharge)
Portofino Hotel & Marina - A Noble House Hotel Room, 2 Double Beds, Marina View
2 double beds
Features a private patio

Entertainment - WiFi, cable channels, and pay movies
Food & Drink - Coffee/tea maker and minibar
Bathroom - Shower/tub combination, bathrobes, and free toiletries
Non-Smoking

Room Amenities
Air conditioning
Bathrobes
Cable TV service
Climate control
Coffee/tea maker
Complimentary toiletries
Complimentary weekday newspaper
Cribs/infant beds available
DVD player
Daily housekeeping
Desk
Free local calls
Hair dryer
Iron/ironing board
Minibar
Patio
Pay movies
Rollaway/extra beds available
Room service (limited hours)
Shower/tub combination
Video-game console
Wireless Internet access (surcharge)
Portofino Hotel & Marina - A Noble House Hotel Room, 1 King Bed, Marina View
1 king bed
Features a private patio

Entertainment - WiFi, cable channels, and pay movies
Food & Drink - Coffee/tea maker and minibar
Bathroom - Shower/tub combination, bathrobes, and free toiletries
Non-Smoking

Room Amenities
Air conditioning
Bathrobes
Cable TV service
Climate control
Coffee/tea maker
Complimentary toiletries
Complimentary weekday newspaper
Cribs/infant beds available
DVD player
Daily housekeeping
Desk
Free local calls
Hair dryer
Iron/ironing board
Minibar
Patio
Pay movies
Rollaway/extra beds available
Room service (limited hours)
Shower/tub combination
Video-game console
Wireless Internet access (surcharge)
Portofino Hotel & Marina - A Noble House Hotel Room, 2 Double Beds, Marina View
2 double beds
Features a private patio

Entertainment - WiFi, cable channels, and pay movies
Food & Drink - Coffee/tea maker and minibar
Bathroom - Shower/tub combination, bathrobes, and free toiletries
Non-Smoking

Room Amenities
Air conditioning
Bathrobes
Cable TV service
Climate control
Coffee/tea maker
Complimentary toiletries
Complimentary weekday newspaper
Cribs/infant beds available
DVD player
Daily housekeeping
Desk
Free local calls
Hair dryer
Iron/ironing board
Minibar
Patio
Pay movies
Rollaway/extra beds available
Room service (limited hours)
Shower/tub combination
Video-game console
Wireless Internet access (surcharge)
Portofino Hotel & Marina - A Noble House Hotel Deluxe Room, 1 King Bed, Marina View
1 king bed
Features a private patio

Entertainment - WiFi, cable channels, and pay movies
Food & Drink - Coffee/tea maker and minibar
Bathroom - Shower/tub combination, bathrobes, and free toiletries
Non-Smoking

Room Amenities
Air conditioning
Bathrobes
Cable TV service
Climate control
Coffee/tea maker
Complimentary toiletries
Complimentary weekday newspaper
Cribs/infant beds available
DVD player
Daily housekeeping
Desk
Free local calls
Hair dryer
Iron/ironing board
Minibar
Patio
Pay movies
Rollaway/extra beds available
Room service (limited hours)
Shower/tub combination
Video-game console
Wireless Internet access (surcharge)
Portofino Hotel & Marina - A Noble House Hotel Room, 2 Double Beds, Oceanfront
2 double beds
Features a private patio

Entertainment - WiFi, cable channels, and pay movies
Food & Drink - Coffee/tea maker and minibar
Bathroom - Shower/tub combination, bathrobes, and free toiletries
Non-Smoking

Room Amenities
Air conditioning
Bathrobes
Cable TV service
Climate control
Coffee/tea maker
Complimentary toiletries
Complimentary weekday newspaper
Cribs/infant beds available
DVD player
Daily housekeeping
Desk
Free local calls
Hair dryer
Iron/ironing board
Minibar
Patio
Pay movies
Rollaway/extra beds available
Room service (limited hours)
Shower/tub combination
Video-game console
Wireless Internet access (surcharge)
Portofino Hotel & Marina - A Noble House Hotel Room, 1 King Bed, Oceanfront
1 king bed
Features a private patio

Entertainment - WiFi, cable channels, and pay movies
Food & Drink - Coffee/tea maker and minibar
Bathroom - Shower/tub combination, bathrobes, and free toiletries
Non-Smoking

Room Amenities
Air conditioning
Bathrobes
Cable TV service
Climate control
Coffee/tea maker
Complimentary toiletries
Complimentary weekday newspaper
Cribs/infant beds available
DVD player
Daily housekeeping
Desk
Free local calls
Hair dryer
Iron/ironing board
Minibar
Patio
Pay movies
Rollaway/extra beds available
Room service (limited hours)
Shower/tub combination
Video-game console
Wireless Internet access (surcharge)
Portofino Hotel & Marina - A Noble House Hotel Room, 1 King Bed, Oceanfront
1 king bed
Features a private patio

Entertainment - WiFi, cable channels, and pay movies
Food & Drink - Coffee/tea maker and minibar
Bathroom - Shower/tub combination, bathrobes, and free toiletries
Non-Smoking

Room Amenities
Air conditioning
Bathrobes
Cable TV service
Climate control
Coffee/tea maker
Complimentary toiletries
Complimentary weekday newspaper
Cribs/infant beds available
DVD player
Daily housekeeping
Desk
Free local calls
Hair dryer
Iron/ironing board
Minibar
Patio
Pay movies
Rollaway/extra beds available
Room service (limited hours)
Shower/tub combination
Video-game console
Wireless Internet access (surcharge)
Portofino Hotel & Marina - A Noble House Hotel Premier Room, 1 King Bed, Oceanfront
1 king bed
Features a private patio

Entertainment - WiFi, cable channels, and pay movies
Food & Drink - Coffee/tea maker and minibar
Bathroom - Shower/tub combination, bathrobes, and free toiletries
Non-Smoking

Room Amenities
Air conditioning
Bathrobes
Cable TV service
Climate control
Coffee/tea maker
Complimentary toiletries
Complimentary weekday newspaper
Cribs/infant beds available
DVD player
Daily housekeeping
Desk
Free local calls
Hair dryer
Iron/ironing board
Minibar
Patio
Pay movies
Rollaway/extra beds available
Room service (limited hours)
Shower/tub combination
Video-game console
Wireless Internet access (surcharge)
Portofino Hotel & Marina - A Noble House Hotel Room, 1 King Bed, Ocean View
1 king bed
Features a private patio

Entertainment - WiFi, cable channels, and pay movies
Food & Drink - Coffee/tea maker and minibar
Bathroom - Shower/tub combination, bathrobes, and free toiletries
Non-Smoking

Room Amenities
Air conditioning
Bathrobes
Cable TV service
Climate control
Coffee/tea maker
Complimentary toiletries
Complimentary weekday newspaper
Cribs/infant beds available
DVD player
Daily housekeeping
Desk
Free local calls
Hair dryer
Iron/ironing board
Minibar
Patio
Pay movies
Rollaway/extra beds available
Room service (limited hours)
Shower/tub combination
Video-game console
Wireless Internet access (surcharge)
Portofino Hotel & Marina - A Noble House Hotel Deluxe Room, 1 King Bed, Marina View
1 king bed
Features a private patio

Entertainment - WiFi, cable channels, and pay movies
Food & Drink - Coffee/tea maker and minibar
Bathroom - Shower/tub combination, bathrobes, and free toiletries
Non-Smoking

Room Amenities
Air conditioning
Bathrobes
Cable TV service
Climate control
Coffee/tea maker
Complimentary toiletries
Complimentary weekday newspaper
Cribs/infant beds available
DVD player
Daily housekeeping
Desk
Free local calls
Hair dryer
Iron/ironing board
Minibar
Patio
Pay movies
Rollaway/extra beds available
Room service (limited hours)
Shower/tub combination
Video-game console
Wireless Internet access (surcharge)
Portofino Hotel & Marina - A Noble House Hotel Room, 1 King Bed, Oceanfront
1 king bed
Features a private patio

Entertainment - WiFi, cable channels, and pay movies
Food & Drink - Coffee/tea maker and minibar
Bathroom - Shower/tub combination, bathrobes, and free toiletries
Non-Smoking

Room Amenities
Air conditioning
Bathrobes
Cable TV service
Climate control
Coffee/tea maker
Complimentary toiletries
Complimentary weekday newspaper
Cribs/infant beds available
DVD player
Daily housekeeping
Desk
Free local calls
Hair dryer
Iron/ironing board
Minibar
Patio
Pay movies
Rollaway/extra beds available
Room service (limited hours)
Shower/tub combination
Video-game console
Wireless Internet access (surcharge)