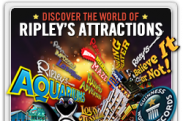 Edit
Ripley's Believe It Or Not Museum
6780 Hollywood Blvd
, Hollywood
, CA
90028
|
Directions
Hours:
Mon-Sun:
10:00 am - 12:00 am
/
About Ripley's Believe It Or Not Museum
Home to world class family fun, where you can explore 2 floors of galleries, shows and unusual and fascinating exhibits collected by world-famous traveler Robert Ripley.
Since its first public display at the Chicago World's Fair in 1933, Ripley's Believe It Or Not has established itself as the go-to place for al things strange and bizarre. By 1950, Ripley's music of the strange had screech around the country, with museums located in San Francisco, San Diego Dallas, Cleveland, Florida and the famed Time Square location in New York City. Now located all around the world, Ripley's Believe It or Not has become synonymous with a one-of-a-kind experience.

The Ripley collections includes 20,000 photographs, 30,000 artifacts and more than 100,000 cartoon panels, and has an annual attendance of more than 12 million guests per year. Since its humble roots, Ripley's has evolved into a cultural museum, with a new Hollywood location that showcases pieces from famous modern films, props from big productions and a host of other items that mix well with the museum's better-known collection of unique and bizarre items. Celebrities take center stage at Ripley's newest Hollywood spot, with Brad Pitt, Jack Nicholson, Marilyn Monroe and more greeting guests as they walk in. With over 500 new exhibits—all family-friendly, but strange and eclectic as only Ripley knows how—Ripley is proving to still have a few tricks up its sleeve.

Ripley's has made a name for itself as the homeland of everything strange and twisted, and its newest locations (including a two-story Hollywood locations, with nearly 300 unusual and fascinating exhibits) make sure to maintain the Ripley tradition.
Articles mentioning Ripley's Believe It Or Not Museum
The entertainment capital of the world heats up this week with lots of interesting events and activities to couples, families and adventurers alike.
Ripley's Believe It Or Not Museum Videos