With more than 4 million visitors each year, the Staples Center has become the leading sports and entertainment facility in all of Los Angeles.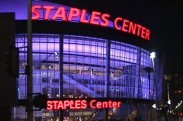 About Staples Center
As the official home of the Los Angeles Lakers, Clippers, and Kings, the Staples Center is the greatest and grandest of all sports and entertainment arenas in Los Angeles. No other venue in all of Downtown encompasses as much live entertainment, retail, and restaurant options. It has also hosted hundreds of the hottest musical acts in the world, including Madonna, Justin Bieber, Jennifer Lopez, Enrique Iglesias, and Carrie Underwood.
Articles Mentioning Staples Center
Videos from Staples Center