Owned by Johnny Depp, this is a great place to catch a live show, see and be seen, throw back a few drinks and possibly spot a star or two.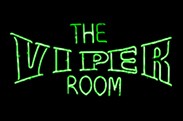 About The Viper Room
The world famous Viper Room was opened in 1993 with owner Johnny Depp doing the honors. The club has two floors of entertainment each night it's open. On the upper floor, live performances or a live DJ create music for those on the dance floor to rock out to. There is also limited seating, but when you're out in LA, the night ends if you sit down. The upstairs at the Viper Room also has a full bar although there is another fully stocked bar downstairs in a more intimate space. Unlike most bars and clubs in Los Angeles and Hollywood, The Viper Room treats all the patrons with respect and often brings in surprise performances. Some of the greatest names in rock have played The Viper Room like Johnny Cash, Bruce Springsteen, Oasis, Pearl Jam, Iggy Pop, Sheryl Crow, and many more. The club was inspired by the style of a 1920's Harlem jazz club. Over a decade since opening, The Viper Room has seen all kinds of people, artists, hipsters, and bigwigs come through its doors, and it doesn't look like the flow is stopping anytime soon.
Articles Mentioning The Viper Room
West Hollywood's Sunset Strip is famous for its legendary rock clubs, drawing fans of classic rock, heavy metal, 80s hair bands and rock history. The mile and half stretch of road has helped pave the way to stardom for some of the biggest acts in music from Motley Crue ("Girls Girls Girls") to disco queen Donna Summer ("Sunset People") and Roger Waters ("Sunset Strip").
Videos from The Viper Room